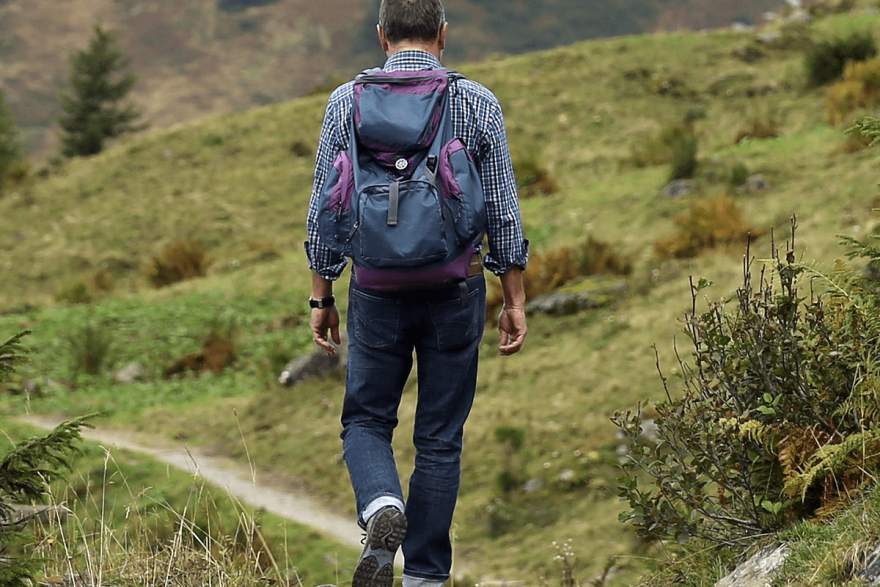 Your idea of a terrific outdoor adventure may not be backpacking and hiking in the rain. You will have reduced visibility, and it will be cold and wet. Hiking in the rain can be a miserable experience if you're not properly prepared but with the right gear and mental attitude, adventuring outdoors during the rainy season can be an enjoyable experience.
Hiking in the rain will mean you will avoid crowds, experience the wild in an entirely different way, and most likely see more wildlife. Mastering the skill of backpacking in the rain can take a few years of experience, as well as some trial and error. If you feel ready to set forth and hike in rainy conditions, we recommend you start off in a nearby area to your home. That way, you can sharpen your skills before heading off on a more intense adventure.
Have a Positive Mindset
Having a positive attitude is a vital factor, as this mindset will make sure you have a great time during a wet and cold hiking trip. You have to prepare yourself mentally to be wet and cold, yet still having fun.
No ifs, ands or buts about it, you will get wet. There's no way to avoid it. Expensive rain gear doesn't mean you'll stay completely dry while hiking during long periods of rain. Neither will waterproof shoes, as they don't breathe well and you will get sweaty feet during your hike. Also, water from brushes will run down your legs and find its way into your shoes, and while rain pants may delay this, your feet will end up getting soaked.
Therefore, don't focus on preventing getting wet, just accept the fact that you will get wet and you need to adapt. Having the proper skills and mindset will mean you will be able to hike comfortably and stay dry during the night, even if is raining non-stop.
Tips for Dealing With Wet Weather
It's important that you check the weather forecast for the region where you'll be hiking and camping. That way you'll know what awaits you on your adventure. Always be prepared for inclement weather, especially during the rainy season, and if you'll be backpacking at high elevations. Don't forget to pack your rain gear and make sure you're ready for heavy rain. Being unprepared will not only make for a miserable experience, but it can also be dangerous as your body temperature will not be regulated, and this could lead to hypothermia.
As soon as rain begins to fall, or if the weather forecast has called for heavy rains, make sure that you've properly secured your backpack against the rain. Even if your bag is waterproof, water can still seep in through the seams. Wet gear means you could be looking at days before it's dry again.
An excellent way to make sure your gear stays dry is to use a waterproof bag to line the inside of your pack. No need for expensive bags, a trash bag will work. Smaller electronic items or food can be stored in smaller sandwich storage bags.
Wear the Right Clothing and Footwear
Your clothing should comprise of synthetic and quick-drying fabrics, as they will also keep and maintain your body heat when they're wet. Stay away from denim and cotton, as they will take ages to dry and also weigh you down.
Your jacket should be lightweight, in a breathable fabric and offer proper ventilation. It's always a good idea to test out your jacket before heading out on the trail. There's no need to purchase an ultra expensive rain shell; you just need it to control your inner body temperature and repel water.  
Rain pants aren't always necessary, especially if the weather is not that cold. Your regular shorts or hiking pants will do the trick and will keep you warm while you're moving.
When it comes to footwear, we recommend lightweight tennis or running shoes over hiking boots. These shoes will be quick to dry, and they won't hold the water in. They'll be light, comfortable and your feet will stay warm. Hiking boots will get heavier when wet, and take ages to dry.
Manage Your Body Temperature
It's super important to regulate your body temperature when you're backpacking in the rain. Staying warm is easy when you're moving, but be careful about sweating too much, as this can lead to overheating. Use the ventilation in your clothing as well as layers to protect you from overheating or hypothermia.
Since there's so much water around you, you may be tempted to drink less water and eat less food.  Set some reminders to make sure that you are regularly eating and drinking, as your body will need the water and fuel to manage your body temperature and keep warm.
Be Aware of Trail Hazards
Health concerns and added dangers are part of torrential rains or a significant storm. Avoid unwanted complications by looking out for the following dangers:
Slippery surfaces: Make sure and tread extra carefully on slimy-rocks, wet logs, and muddy slopes, even with high traction footwear. Trekking poles can help you stay upright.

Hypothermia: Memorize the early symptoms of hypothermia, as it's more of a hazard in cold and rainy weather. When you reach your campsite, immediately change into dry clothing.

Flash floods: Check the weather forecast, especially if you're out in canyon country and always know how to quickly reach higher ground.
Tips for Selecting Your Campsite
Look for dry and high ground. Less moisture will be in the air, meaning less condensation in your tent.

Camp under trees. The microclimate they create will be more protected and warmer, along with lower condensation levels. That being said, avoid camping sites under damaged trees, as they can come crashing down with high winds.

Make sure your tent door is away from the wind so that no rain can blow inside.

Stay out of dry riverbeds, as you could wake up in the middle of a river during a rainstorm.
Make Smart Choices
During torrential rains, always be aware of your surroundings. Flash floods are common during heavy rains, and it can be hazardous to cross rivers. Erosion is also increased during heavy rains, leading to possible rockslides and mudslides.
After you've set up camp, don't bring in your wet items into your tent, you should leave them outside, as this will keep your shelter dry. Your wet clothes, raincoat, and backpack should stay outside and allow your dry gear and clothes to stay dry.
Be The Master of Your Hike
At the end of the day, it's your hike and your adventure, so focus on what makes you happy. If the rain is too heavy and you're not enjoying your hike, you can always set up campsite during the day and wait for the rain to stop. There's no need to feel guilty if you change your plans, especially if it means that you'll be staying safe.
When the weather is miserable, an upbeat attitude can mean the difference between an awesome experience or a miserable one. And hey, you could always be stuck in a stuffy office staring at a computer. Even in wet conditions, being nature surely beats that!
In conclusion, it's always going to suck to put on your cold and wet hiking socks in the morning, but you could be missing out on some great backpacking adventures if you've never hiked in the rain.