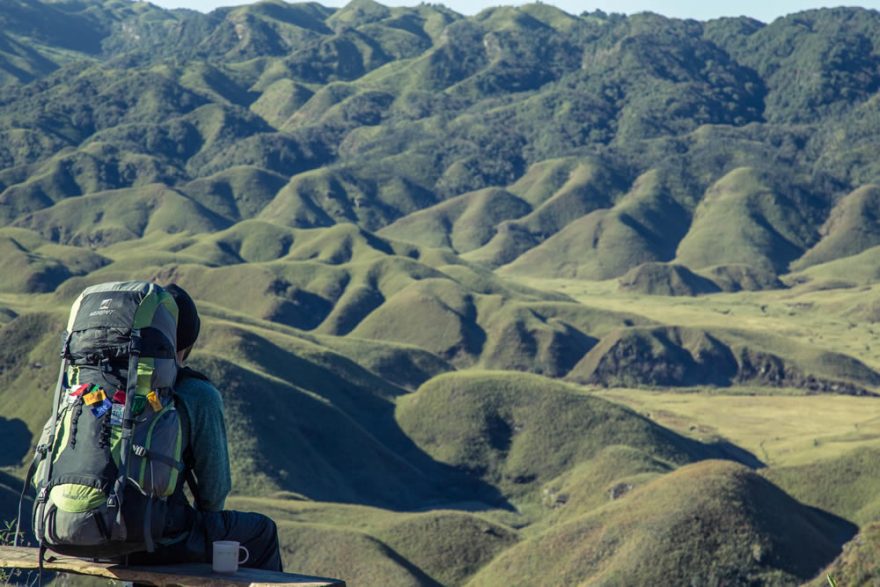 Whether an experienced trekker or an absolute beginner, we often find that packing seems to be the most challenging part of the weekend backpacking trek! The following checklist covers the absolute basics – never hit the trail without them.
Map and Compass
When it comes to navigating your way around the trail, don't rely on GPS alone. Satellite accuracy can sometimes be a little patchy and it's never a good idea to solely rely on batteries.
We recommend opting for a sturdy waterproof map (or at least a good cover), a compass, watch, and always plan in advance. Don't be the only person in your group that knows the itinerary inside and out; make sure someone else has studied your route and has a copy.
Fire and Light
Don't make the mistake of relying on your phone's flashlight. Opt for a headlamp that's lightweight and has long-lasting batteries. Otherwise, choose a small flashlight and an extra set of batteries.
For your campfire, we recommend something small alongside a set of windproof matches. For example, fire steel always works well and you can pop it into your pocket without adding much to your load.
Tent and Sleeping Bag
Whether it's a tarp, tent, bivy, or hammock, don't skimp on your shelter. If you are a frequent camper, it's worth spending the extra money on something that's reliable, waterproof, and lightweight.
Also make sure you pack the correct sleeping bag. Have a look at the temperature your bag can handle and check that it matches where you plan on going.
Clothing Checklist
This list depends slightly on the weather, but most of the following items are applicable no matter where you're going:
Footwear – don't take a brand new pair of walking shoes; make sure you've broken them in first! Trail shoes are probably your best bet, as they dry quickly and aren't as heavy.
Walking socks – go for something that's made for the trail, not your average cotton pair. Always take two pairs minimum.
Hiking pants – pick something durable and lightweight.
Quick drying shirt – leave heavy cotton at home and buy a shirt that's made for the trail.
Waterproof jacket – Gore Tex if you can afford it, otherwise choose something breathable.
Thermal underwear – you'll only wear this when going to bed, never outside.
Lightweight jacket – if it's cold out, opt for a lightweight down or synthetic jacket that's packable.
Accessories – gloves, beanie gat, sunglasses.
Food and Drink
Taking the right amount of food and drink is probably the most difficult thing to get right. It varies from individual to individual, but most people need a minimum of 1.5 pounds per day.
When it comes to water, take a filter and purifying drops so that you don't have to take your entire supply with you. Ensure you stay hydrated during your trek; it's extremely important!
For cooking, take a camping stove and don't overfill as that adds a lot of weight to your pack. Multipurpose is the operative word here; bowls can be used for cooking and eating, while sporks also save space in your pack.
Venturing into bear country? Bear canister are an absolute must. They're also handy when it comes to keeping out other undesirables.
Protect Your Skin
People will always remember sunblock when heading out to the beach, but it's often an afterthought when it comes to trekking. Big mistake. If you're doing a multi-day trail, sun protection is absolutely essential.
We also advise that you wear the appropriate clothing, such as a long-sleeve shirt, hat, and pants instead of shorts. These will not only help you with sun protection, but you'll also keep out those nasty critters you may find on the trail.
In addition to sunblock, consider sprays or lotions against insects. If you're going to an area where there are loads of mosquitos, for example, forgetting adequate protection can completely ruin a trip.