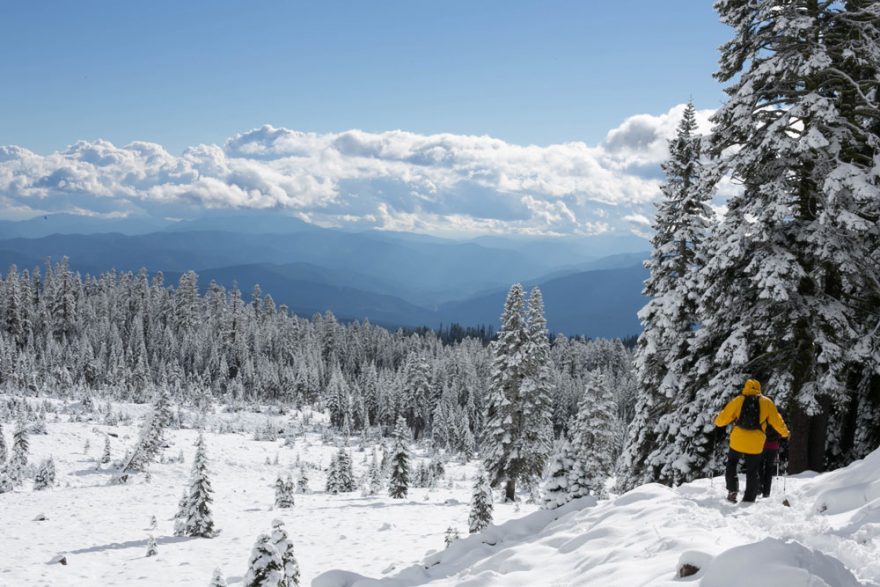 Winter is the harshest season for any kind of sports or outdoor activities, so many people often give up hiking during these months. For the experienced walker, winter is just as enjoyable as any other season of the year, even if it does come with some extra safety challenges.
The colder weather and terrain covered in ice and snow can pose some difficulties. However, with the right equipment and preparation you can experience some beautiful views and walk trails that many others will miss out on.
Follow these tips to ensure you stay safe during your next winter hike.
Clothing and Gear
One safety tip that you'll already be thinking about is the extra layers of clothing and weather specific gear you will need. The key to winter hiking gear is making sure you dress in layers to keep you warm and dry.
Long sleeves and thermal undergarments will help to lock in as much body heat as possible. Add thicker socks underneath your hiking boots and invest in breathable, waterproof outer layers. There are a variety of coats available that are specifically designed to be worn for outdoor activities during winter; we recommend an insulated down jacket from a sports or outdoor store.
Your normal hiking boots should be suitable for most winter treks as these will still offer you plenty of support and stability, even if the ground is more slippery. For more experienced hikers tackling extreme environments, it may be a good idea to purchase a pair of snowshoes or add crampons to your boots.
You can also use trekking poles, which offer a level of extra support and stability when hiking across snowy or icy ground.
Emergency Supplies
Don't forget to pack extra supplies and equipment in your rucksack for use in case of an emergency. Make sure you have an up to date map, compass, flashlight (with spare batteries) and even an emergency signal if you are tackling rough terrain.
Ensure you have packed additional clothing for warmth, including socks, gloves, thermal long johns and long sleeved tops, as well as a hat and goggles or a balaclava to protect your face from the cold. These will all come in handy if it is damp or wet weather, as you will be able to change into warm and dry clothing.
Also, make sure to pack plenty of water and snacks that are high in protein and complex carbohydrates. This will keep you hydrated and help to top up your energy level throughout your hike. It is important to eat and drink in small amounts at regular points throughout your trek.
Weather Alerts
Always check the weather on a regular basis before setting off on a winter hike. The weather can drastically change very quickly, meaning you could face unexpected or dangerous conditions halfway through the trail.
There are a number of weather apps you can use, and it is always best that you set a weather alert for the area you will be visiting leading up to your trek. Checking for storms or severe shifts in the weather pattern as often as possible is one of the best ways you can prepare yourself, as you may be taking a dangerous risk by going through with the journey.
Timing Your Hike
You might have the whole day free to go walking, but it is important to time you hike correctly during winter. There are fewer hours of daylight available to spend on the trail, as well as it getting dark much earlier at this time of year.
Hiking in the dark, particularly when the temperatures are dropping, and there is a greater risk of adverse weather conditions, can be extremely dangerous.
Research your route and try to get an early start to give yourself as much hiking time as possible. It's better to go for shorter trails in winter and leave the longer outings until later in the year to ensure you stay safe.
Walking in Pairs
As there are more risks involved in a winter hike, it is advisable to arrange to go out on your walk with a partner or even a group if possible. This will ensure that there is always someone there to help out if you encounter any problems.
A larger group will be able to call for assistance if needed, as there is a greater risk of accident or incident during a winter walk.
Before you set off, alert people to your plans, including the route you are taking and how long you expect to be out.
Follow these simple tips and carry out research before you set off to stay safe and make your winter hike an exciting and enjoyable new challenge. Using common sense and speaking with rangers will help you to stay active and get the most out of the outdoors this winter.