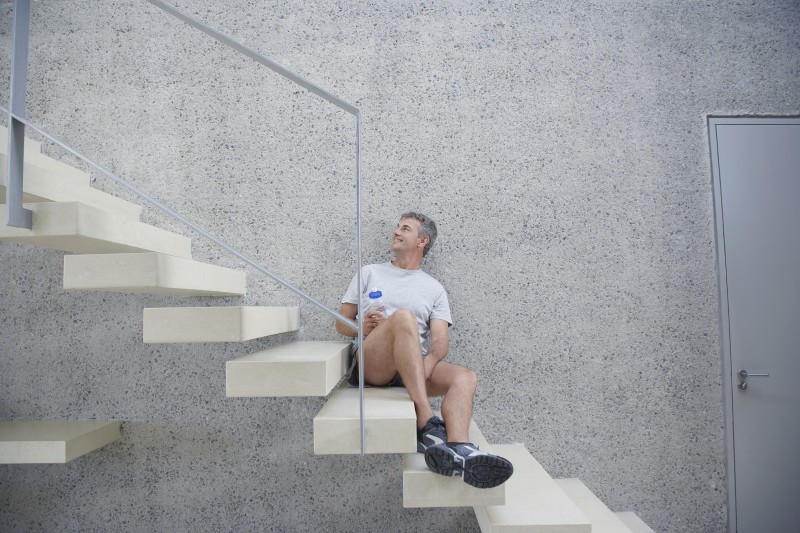 Whether it's the high price of a gym membership, a busy schedule, or simply cold weather that makes you want to hide at home, many of us can easily find excuses to not work out. But with a little creativity, there are plenty of ways to exercise for free in the convenience of your own home.
The following exercises can be done at home without shelling out money on high-priced workout equipment, although I do suggest investing in a comfortable outfit to exercise in, as well as a pair of tennis shoes. You don't have to spend a ton of money, but purchase pants and a shirt that fit well and don't need to be adjusted constantly. You'll be thankful for the clothes when you're in the middle of your workout.
Kitchen Chair
A sturdy kitchen chair is perfect for tricep dips and modified sit-ups. Sit on the chair, place your hands on either side of it while gripping tightly, move forward so your butt is just past the chair and dip down, using your arm strength to lift you back up. For sit-ups, lay on the ground with your knees bent and your calves flat on the seat of the chair. Depending on how tall you are as well as the height of the chair, you might need to switch objects—a couch, bed, or ottoman may work better. Put your arms behind your head or folded across your chest, and crunch in and up.
Sets: 3
Reps: 20
Rest: 60 seconds between each set
Table/Counter
A sturdy table or kitchen counter is great for standing push-ups. Make sure you're wearing tennis shoes with pretty good grips to prevent any sliding. Lean forward and place your hands on the edge of the table or counter, keep your entire body straight, bend at the ankles and elbows, and do a standing push-up. Make sure to keep your core tight throughout. For some easy cardio, add on running up and down the stairs several times.
Sets: 3
Reps: 20
Rest: 60 seconds between each set
Wall
A wall is a perfect place to do supported squats or basic wall sits. Simply place your back flat against the wall, sit down, and bend your knees—you can either keep them together for a wall sit, or widen your stance for more of a squat.
Sets: 3
Reps: hold for 30-60 seconds each time, or more if you can
Rest: 60 seconds between each set
Stairs
Stairs are perfect for calf dips. Stand with your toes on a step as if you're climbing them, then dip the back half of your feet down, creating a stretch in the calves. You're not going to have that extra resistance sitting on your shoulders that comes with the machine at the gym, but it works. If you want to add a little weight, try holding water bottles with your arms bent, resting them near your shoulders.
Sets: 3
Reps: 15 
Rest: 60 seconds between each set
Gallon of Milk
A gallon of milk or something of a similar size—a laundry detergent bottle—can function similarly to a medicine ball. If the container is empty, try filling it with sand or pebbles—if you don't have access to either, water will work. Russian Twists are a great core workout, so sit down with your legs stretched out and slightly bent, lean back while holding the gallon, and twist from side to side.
Sets: 3
Reps: 15 on each side (30 per set)
Rest: 60 seconds between each set
Water Bottles
Get two water bottles (I recommend heavier, reusable bottles that are fairly large), and use them as dumbbells. If you can, fill them with sand or pebbles—if not, water will work just fine. There are a number of exercises you can do with your makeshift dumbbells, including bicep curls and shoulder presses. You'll want to do three sets of each exercise.
Sets: 3
Reps: 15
Rest: 60 seconds between each set
Laundry Basket
Fill a small laundry basket with clothes, books, or other objects, depending on how much weight you want to lift. To do a deadlift, begin with the basket on the ground, bend at the hips to grab it, then stand up while keeping your back straight, and the basket will be in front of your hips. To take it a step further, you can raise the basket above your head each time.
Sets: 3
Reps: 15
Rest: 60 seconds between each set
Plank
Now, you don't exactly need a household object to do this exercise, but it's a great full-body workout on its own. Full plank (arms extended straight) is a major core workout, but there's also the option of lowering down to the forearms (shown below). For those who want a modification, lower the knees to the ground to remove some pressure. To push yourself further, try out side plank. You'll balance on one arm and reach the other arm toward the sky, while your feet are stacked on top of one another. For a modification, lower the knee closest to the ground back to the floor.
Sets: 3
Reps: hold for 30-60 seconds each time, or more if you can
Rest: 60 seconds between each set
For more from 15-minute FITNESS, check out five great medicine ball exercises or these seven yoga poses for runners.