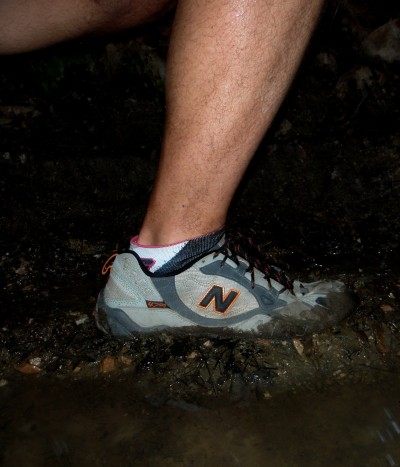 When it comes to purchasing your first pair of trail running shoes, it's easy to start shopping in the wrong category. A simple search brings back hundreds, if not thousands of options, leaving the customer overwhelmed. Rather than trying to answer a million questions at once regarding your running style, preferred terrain, and foot shape, start with the basic question of, "Where will I be using this shoe primarily?" This can narrow down the search quite drastically.
According to a post on REI, trail running shoes are made with two key aspects in mind. The first is that the shoe needs to be able to grip rugged terrain, meaning the outsoles need deeper lugs and more intense tread patterns. The second aspect is the protection of the foot, which means the sole must be more structured and the front of the shoe must be heavy-duty to prevent toe injuries from occurring. Most trail running shoes are made with this in mind (unless you're looking for a minimalist running shoe).
As for the first question, if you're a runner that is focused on speed, a lighter shoe is imperative. But because of this, your foot will not be as protected. For people who will be running on steep trails, make sure to have more structure and support. As for those who encounter wet conditions frequently, buy a shoe that has lugs that are far apart, as mud won't get stuck as easily. If you'll be running in wet areas, consider buying a shoe that is waterproof such as those that include Gore-Tex or eVent, but remember this padding makes them bulkier. Also keep in mind that the padding can throw off the size, and you may need to go a bit larger. Once you've figured out where you want to use the shoe, eliminate the others and move on to the fit.
According to REI, "Shoes are built around forms known as 'lasts.' Each manufacturer uses a last that it believes best represents the shape of the typical human foot. Shoes of the same size routinely vary in depth, width and volume, indicating shoemakers have differing views on what is a typical foot shape." It stated the best brands to start with are adidas, Brooks, Inov8, La Sportiva, Merrell, Mizuno, and New Balance.
The specific shape of each person's foot is where the process gets complicated, since every company has its own opinion. Always try to check out a few different brands in-store and get assistance from an employee who is knowledgeable about each shoe. This isn't always possible, so try on a variety of brands. A high arch, normal arch, and flat foot will vary based on brand, so keep this in mind and base it off of what feels comfortable. Although a trail running shoe should be fitted, make sure it's not tight enough to cause blisters on your heels or make your toes feel as if they don't have quite enough room.
When trying on shoes, walk uphill and downhill to mimic the movements you'll be doing on the trail. This is a good test to determine the right fit, and a great way to see if the shoe is a bit too snug. From there, it's just about finding a look you like, but most companies offer their trail running shoes in a variety of colors and patterns, so there should be a good selection no matter the brand.
Image from Petar Milošević on the Wikimedia Commons