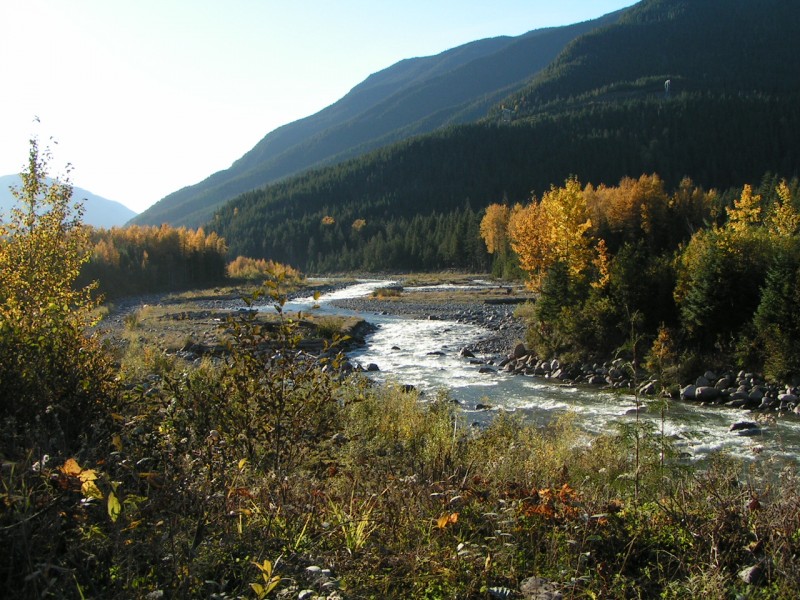 When the temperatures begin to drop and the orange, yellow, and red leaves start to color trees, many people assume hiking season is coming to an end. But for others, these natural signs represent the beginning of their hiking adventures. In order to fully experience the satisfaction of spending time outdoors during this time of year, one must organize accordingly. This includes preparing for the weather by dressing warmly, packing food and beverages that will help contain the heat your body is trying to release, and planning a route that bypasses colder sections of the trail (if that's what you're trying to avoid). Check out our advice below about how to prepare for a fall hiking trip.
Working with weather
According to an article in Backpacker, one-third of storms in North America happen in September and carry into the first half of October. Working around these weather concerns is imperative, although it is recommended to be prepared for any type of weather condition while hiking. Try to plan a hike during the second half of October or beginning of November, because it's a window that may provide the best climate.
If traveling to a better location to hike is an option, research where the good weather is. Check out this list of the top 10 hiking locations posted by Discovery News to see the destinations that are nearest to you. Make sure to either speak with hikers who have recently gone on the trail or call ahead to park rangers who can inform you of what to expect along the way, which can help you better prepare for the conditions.
Staying warm
The most important factor to consider while hiking in the fall is the effect weather is going to have on the entire trip, whether it is only a few hours on the trail or a multi-day journey. What this means is that when temperatures decrease, your body is releasing heat to keep you warm. Rather than allow this heat to escape, make sure to wear a hat, gloves, neck gaiter, and even a face shield to contain the heat.
"During a tough hike, cooling sweat could drench your layers, and drying them wastes energy. Adjust pace and clothing to avoid excess sweating, and slow down 30 minutes before reaching camp to let body heat dry base layers," the article stated. "Moving air cools skin fast – that's why windchill makes [temperatures] feel colder. Wear windproof outer layers, seek shelter, and plan a route with minimal wind exposure, like a forest or a canyon."
When your body comes into contact with cold sitting surfaces, heat moves away quickly. To prevent this, place your sleeping bag or other insulation between your body and the surface to help conceal heat.
Another way to keep the heat in is by altering your diet while hiking. Switching to a diet high in fat will allow for these calorie-dense foods to metabolize slowly, which lengthens the warming effect that comes from digestion. Some good foods to pack are chocolate, nuts, and cheese. As for beverages, water is always a must, but also consume warm drinks because it will send more blood to your extremities through sensors in your arteries, causing you to warm up. Spices are also a good option – adding ginger, nutmeg, or cinnamon will help boost blood flow to the skin.
Planning the route
Making sure a hike is enjoyable during fall months is reliant upon not only the before-mentioned regional weather conditions and wearing appropriate clothing, but taking the time to plan the route ahead of time. Backpacker suggested hiking around larger bodies of water because of their ability to moderate air temperatures of surrounding weather systems.
Because of how large these bodies of water are, they take a longer amount of time to cool down. So even though the ground may be frozen, the water hasn't yet caught up and will exude warmth. It is important to note that smaller bodies of water have the opposite effect, so minor lakes and streams will have a cooling effect, releasing the lower temperatures into the surrounding air.
Canyons and gorges are also great places to explore because their low elevations can produce more heat. Something else to keep in mind is the decrease in temperature that comes with the increase in altitude. The temperature of the air drops about 3° to 4°F for every 1,000 feet gained. Make sure to plan ahead by researching the area and pack warmer clothing accordingly. As always, plan for the worst case scenario and pack necessities in a small bag. According to the Washington Trails Association, the 10 essentials that must be brought along are a topographic map, compass, extra food, extra clothing, firestarter, matches, sun protection, a pocket knife, first-aid kit, and flashlight.
Image from Shelbeeray on the Wikimedia Commons