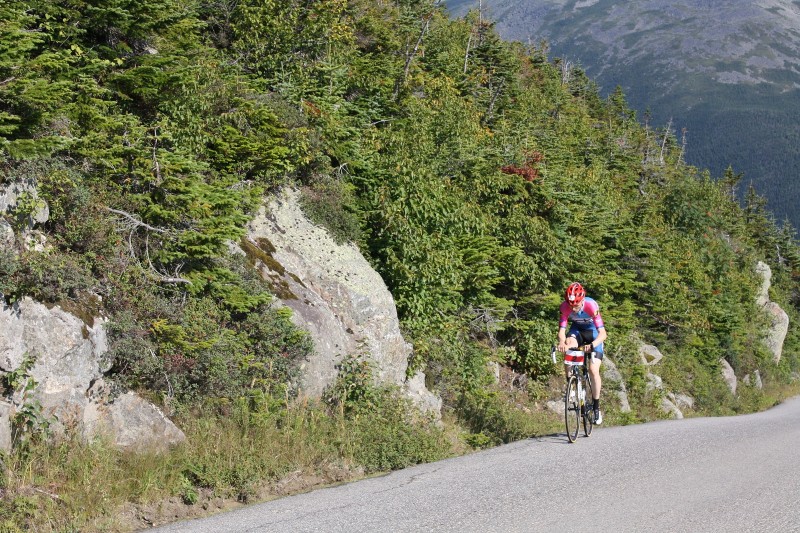 The hills are alive with grimaces. A climb can be looming and glooming, a big landmark of intimidation for cyclists.
But there are ways to prepare.
"I know this is going to sound like a hippie, but embrace the mountains," says hillclimbing cyclist John Bayley. "Get in and find a rhythm for going on those longer steeper climbs. Don't fight it. Climb your rhythm, enjoy the scenery."
Bayley knows about about hillclimbs. The Dublin-born Watertown, Massachusetts cyclist does many styles of riding from touring to hillclimbs. He's raced in the Mt. Washington Auto Road Bicycle Hillclimb more than a dozen times, finishing fifteenth in the August 17 northern New Hampshire race up the northeast's highest peak.
Whether cycling up Mount Equinox in Vermont or Mount Greylock in Massachusetts, Bayley looks to set a pace for the race.
But for those new to the hills, whether it be for a recreational ride or entering that first hillclimb, he advises to start with the engine—the body.
"If your body isn't up to it, the bike will never make the difference," he said. "Once you get to a certain level, then maybe you should look at the bike with the exception being getting the right gearing so you can pedal up at your optimal cadence. That to me is the most important aspect of the bike."
If the body is the engine, then 14-time member of the USA Cycling National Team Maine native Jeremiah Bishop of Harrisonburg, Virginia recommends fueling it well. Bishop, 37, finished third in the Mt. Washington race.
His advice for recreational riders set on a first hillclimb—lose weight.
"Manage for a good diet with lots of vegetables to drop weight and get your body fat to hopefully be as lean as possible," he said. "For a climb like Mount Washington it's about 20 extra seconds for every pound you carry so if you lose 20 pounds it will be very different."
For those looking to get serious, he advocates a three-prong approach by training lactate threshold (basically the highest intensity a cyclist can maintain for an hour), doing steady, sustained efforts and doing rides in a big gear.
Erik Levinsohn, 23, suggests new and wannabe climbers start off slowly. The first-year Yale medical student finished second in the rock pile race and was part of an early six-person breakaway pack, reminding him of an early lesson.
"I think the most common mistake is to start off too hard," he said. "It is a really easy mistake to make."
Levinsohn encourages riders to practice a smooth cadence and be able to spin at a high RPM while still seated. Having strong core strength is vital as well as maintaining a stable and relaxed upper body, he says.
"I know this sounds trite, but do a lot of hills," he said. "You really have to get comfortable riding at threshold and being able to sustain very strong efforts for very long bits of time."
He also partitions a hill if possible, looking at it in stages, psychologically breaking it down to various plateaus.
"I think the keys are to be consistent, be steady and just go deep into the pain cave," he said. "A lot of it is just being able to endure."
Then there's the bike. Riders can spends thousands of dollars trying to keep it light. High-end bikes up Washington weighed under 11 pounds.
Less taxing on the credit card is swapping or modifying cassettes, those gears on your rear wheel. Some switch to mountain bike cassettes and a mountain bike rear derailed for the advantageous lower range.
Bike tech Pat Ferland set up at the base of the Auto Road, suggests new climbers looking to save weight try lighter wheels.
"Even if it means borrowing one from a friend, lighter wheels make a big improvement over the course of the ride," he said.
Ferland says to relax and have fun on the hills.
"And remember to bring your bike shoes," he said. "People get so nervous they forget them."
Images by Marty Basch