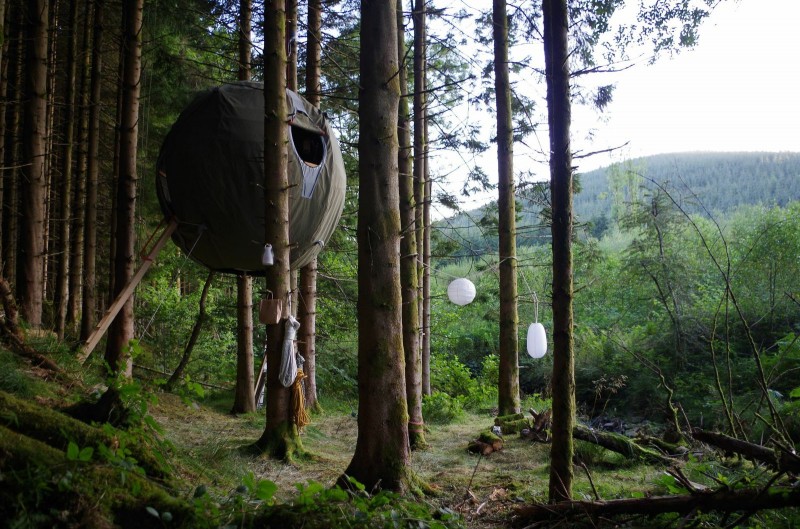 Who said camping isn't for everyone? For those who want to enjoy the outdoors without truly roughing it, "glamping" (glamorous camping) sites bring creature comforts to the ambiance of the great outdoors. Websites like Glamping.com and Glamping Hub offer lists of available sites that may fit your personal needs. Each site provides unique structures with direct access to the surroundlng naturual beauty. Here are some of our favorite sites for traveling the globe, glamp-style.
This cattle ranch resort offers visitors a variety of housing and activity choices. Nestled in the Rocky Mountains near the Blackfoot River,  you will find one- and two-bedroom suite style tents that feature an ensuite bathroom with two sinks and a shower, as well as The Last Best Bed. With a dining pavilion boasting both indoor and outdoor fireplaces as well as a large range of adventure activities to keep both parents and children entertained, this glamp site is sure to be a hit with the whole family.
Sleeping domes are the rooms of choice at this glamping site. Situated in the heart of Torres del Paine National Park, EcoCamp Patagonia offers luxurious sustainable accommodations featuring green technology. Visitors have three options for different levels of comfort: a standard dome, a superior dome, and a suite dome. For those looking to rough it a bit, choosing the standard dome means a shared bathroom and possibly a shared room if you are traveling alone. For more privacy, the superior domes provide a private bathroom, a comfortable queen-sized bed, and include a propane heater. Those who want the best that there is to offer should pick the suite domes, offered in either one and two stories. Suite domes are spacious, with an open terrace and enclosed porch. Suite users enjoy a king-sized bed or multiple single beds for families. All suites also include a propane heater and wood stove.
Camping on the ground is so overrated. Take to the trees when you stay at the Redkite Barn or The Secret Campsite, two locations that feature Luminair Limited's Tree Tents. The Luminair's spherical structure is made of 100 percent and is three meters (slightly under 10 feet) in diameter, just big enough for two adults to relax in style. The design of the tent also promotes environmentally-friendly living, while still featuring running water and electric outlets as well as a working wood stove.
In the Outback, you can find solitude and serenity at Longitude 131. Here, the blissful designs of these private tents give the illusion of camping while still exuding extravagance. Each tent is decorated in memory of an Australian pioneer, and offers all the same amenities as a hotel. Longitude 131 also has a spa, daily tours, fancy dining and an outdoor pool. What more could a camper ask for?
For those who love the tropics, Banyan Tree Madivaru is located on a white sand beach, surrounded by crystal blue water. The tented pool villas are three individual tents that are connected and function as a complete living space. Each villa has its own bathing tent, complete with spa beds where you can receive facials and massages. To stick with the outdoor theme, the tents feature timber flooring, wood furniture, and canopy ceilings.
Offering three different types of accommodations, Hotel Kakslauttanen is an arctic adventurer's dream. Forty first-class log cabins equipped with fireplace, full bathroom, kitchenette, and a private sauna, are comfy places for those who wish to stay indoors. But a true glamper should take advantage of the igloos, offered in both glass and snow. Built entirely of special thermal glass, the glass igloo temperatures can modified for your comfort. No matter how warm you keep it, however, these igloos will never fog up, allowing visitors a constant view of the Northern lights and the surrounding wildlife. With luxury beds and a private bathroom this igloo is a one of a kind experience. But for those looking to live on the edge, snow igloos are available as well. Built entirely out of ice and snow, these igloos are kept at temperatures lower than their glass counterparts, around negative three degrees Celsius, but still protect a resident from the frigid outdoor elements. Able to accommodate up to five people, each one is equipped with down sleeping bags and woolen socks and hoods to keep you toasty warm.
Image courtesy Luminair Ltd.