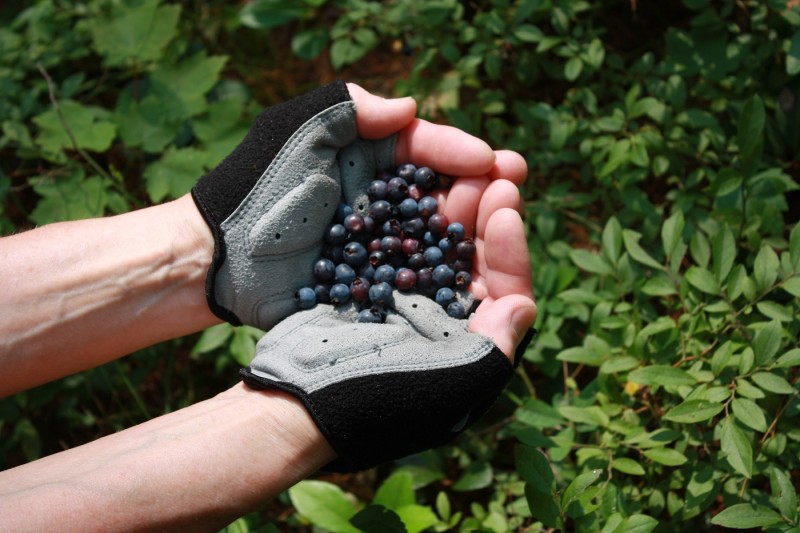 I like mine wild.
Sweet, sometimes bitter, they're found mid-July and August in some of the most incredibly inspiring places often reached only by hiking, paddling, mountain biking, and the like.
They embody summer and sunshine.
Sure, you can find them in the supermarket, but they taste better when picked fresh in the outdoors. Plus, they're free.
Wild blueberries are in season, a bountiful reward for those ready to gather them.
I can unveil those precious spots, but I've learned not to do it. I've been scolded by old active ladies at the grocery store for revealing plush patches and of course been admonished for the same in cyberspace.
So I'll keep my favorite places to myself, thank you, but will impart some tips for making the most of gathering those berries.
Wild blueberries are smaller than their cultivated counterparts. The high bush varieties are usually found in marshy areas and sandbars, often on the shores of lakes and ponds, while low-bush berries frequent ledges and ridges traversed by hikers and mountain bikers.
Perfect for the farm to table crowd, berries are joyous just as they are or later gracing pancakes, jams, the top of cold ice cream, muffins, and more. Freeze some and pull them out this winter for a little added sunshine on a cold dark Sunday morning.
My sweetheart Jan and I have often find blueberries (and their raspberry cousins) while mountain biking along rail trails whether paved or just old-school gravel or dirt. Hiking trails are also wonderful places as rocky ledges also are sunny places to loll about while consuming them.
Though those places are fun, I have to say the best place to pick berries is on the water.
There's nothing like paddling to a secret place, hanging on to a branch and just munching on those berries while perched in the boat.
But what's better is having a honey who absolutely loves to pick and doesn't mind if I drop her at the very secret Blueberry Island and then paddle our tandem kayak around trolling for what's in the water.
The beauty is that we know we're going to have something to eat, even if it's those blueberries to accompany a dessert following that all-to-familiar spaghetti fish I tend to cook after a few hours of angling.
But over time, we've come to take along small containers while berrying. Forget plastic bags. There's a whole lot of shaking going in a pack that will crush those berries. And pouring out your water from you water bottle kind of short changes you on a hot day.
So while on land, we like to use those margarine tubs. Put a paper towel on the bottom so the leaves, twigs and other debris can rest there and it's easy to clean. If you don't fill the container, put another paper towel on top as a buffer before putting on the lid.
A big plus to having a butter tub with a lid is that it's small and guys with little patience can fill it and feel like they're accomplished.
While out on the water, we take it one step further. My honey Jan made a homemade contraption by taking a 16-ounce. container and stabbing two holes on the side. Then she threaded string through it so we can hang the berry buckets from our necks, thus being able to navigate the land and use our hands for picking.
We would never fill those buckets, but instead pick some and then transfer it to a quart size plastic container with lid we keep in the kayak making for a sweet and wild experience during a berry good time of year.
Images by Marty Basch