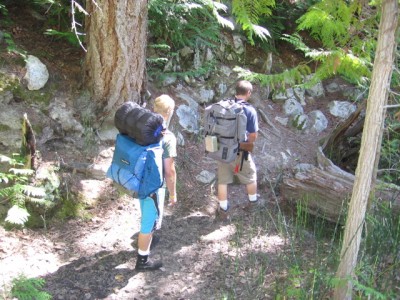 First aid kits are one of the most commonly forgotten items for hikers, backpackers, campers, and those planning an extended canoeing or kayaking trip. It's easy to justify leaving a properly-packed first aid kit at home after you see how much room it takes up in your pack, but ensuring all the necessary items are packed can save your life in a dire situation. Even in more mild situations, imagine you're on a week-long hiking trip when you're confronted with a massive headache that could be cured if only you had remembered to pack the right medication. It's better to add the extra weight to your pack and be assured you have the assistance if needed.
While compiling a first aid kit is completely dependent on the details of your trip, such as what outdoor sport you will be engaged in, how long you will be gone, the terrain you will be covering, and the expected weather, there are several essentials that should be packed no matter the situation.
When preparing for longer trips, some people may find it more cost-effective to invest in one of the prepackaged first aid kits available at companies like REI, Coleman, and Adventure Medical Kits, to name a few. Available in a variety of sizes based on the type of adventure you're preparing for, there is a first aid kit for everyone. All kits on REI's website are under $20, so this is a great place to look if you're trying to find a good deal. While you may have to buy several extra items, this is one of the cheapest ways to go. Coleman has a similar model that runs about $25, while the Adventure Medical Kits are much more detailed if you choose to upgrade. Running up to about $200, these comprehensive kits can come complete with all general supplies, wound care, blister care, medications, CPR, bleeding, fractures, and sprains, but also come in basic packages as well that cost much less.
The list below is complete with every item one would need, but make sure to tailor it to your trip.
First aid packing list
Assortment of adhesive bandages

Blister pads
Sterile gauze
Medical tape
Cotton pads
Alcohol wipes
Antibacterial cream
Hand sanitizing gel
Pain relievers
Allergy medications
Tweezers
Scissors
Safety pins (to help secure bandages)
Thermometer
Anti-itch cream/spray
Burn relief spray
Disposable gloves
Flashlight
Duct tape
Waterproof matches
Sting relief pads
Irrigation syringe
Surgical scrub brush
Povidone Iodine solution
Wound closure strips
Aloe Vera
Spenco 2nd Skin
Moleskin
Molefoam
Cold and flu formula
Glutose paste
Cortisone cream
SAM splint
Elastic bandage with Velcro
Triangular bandage
Image from Paul Wittal on the Wikimedia Commons