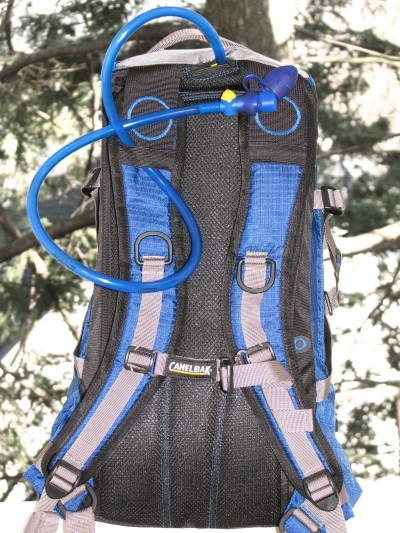 Hydration systems used primarily for outdoor sports first came on to the market in the 1980s, but existed in earlier forms before then. In addition to being implemented by outdoor enthusiasts into their workout routines, United States special operations troops began using hydration systems in the 1990s, later becoming an integral part of their equipment. Although first advertised to cyclists and mountain bikers, hikers found great use for the product while traveling extensively. Since they first appeared on the scene, the design has improved as well as the effectiveness of the system as a whole.
The main features include a flexible bladder that holds the liquid and can be emptied and refilled, a lightweight hose, and a bite valve. Another means by which hydration systems gained popularity was by the amount of water they could carry. As hikers typically carried a bottle of water with them during day trips, this now allowed them to drink more water, as the packs carried more than a bottle could, and also be hands free so they were able to stop less frequently and explore without having to worry about dropping supplies. It was also now conveniently located on your back.
Most of the modern hydration packs come with a protective case–typically a small backpack with extra storage room for supplies. This allows you to carry added gear in separate pockets that otherwise could possibly damage the bladder of the pack.
Since their creation, there have been modifications made to the packs so there is one suitable for every type of activity. For hikers, backpackers, and climbers, a pack that carries about two to three liters is a good choice. For runners, it's best to carry as small a pack as possible, so the more compact waist packs are a good option. If you're a cyclist, use a one to two liter pack, but those who are focused on speed tend to simply bring a water bottle so they won't be slowed down. Touring cyclists should plan to bring a somewhat larger pack, as they'll be on their bike for much longer periods of time. Mountain bikers should bring a little more, so a larger pack carrying two to three liters is sufficient. For skiers and snowboarders, ensuring your pack is insulated so as not to freeze is important.
The bestselling brands of hydration systems are by far CamelBak and Osprey, but there are other, lesser-known brands beginning to make their mark. When first starting to shop for a hydration pack, keep in mind the sport you're planning to use it for, as that will assist you in eliminating many options that are great packs, but won't work as well for what you have in mind specifically.
When visiting CamelBak's website, it's easy to become overwhelmed with the selection, but once again knowing what sport you'll primarily be using the pack for will help. The CamelBak Classic is a great option for people who want a light, multi-use pack that's great for short hiking trips or biking. There are several different versions of the MULE pack, which provides a larger option perfect for full-day hikes or long rides. Osprey's Raptor packs are purported to be some of the best lightweight products that are great for running or shorter activities, while the Talon series are bigger versions of the Raptors.
Because both companies are known for creating exceptional hydration packs, they tend to be expensive. Some other brands to look for are Teton and High Sierra. Most of the mid-sized Teton packs are around $25 and High Sierra offers waist packs between $18 and $30.
If you don't mind spending a good amount of money on a hydration pack, in addition to CamelBak and Osprey, check out Geigerrig's offerings, almost all of which are more than $100 but are well built. The Geigerrig 1600 is a three-liter pack that has plenty of room for storage, but the downside is that it's quite bulky. It would be best used for hiking or backpacking. A smaller model is the Geigerrig Rig 500, which still has a modest amount of storage room and plenty of places to attach larger items on the outside. Shopping around is imperative and often the companies will place these items on sale during the off-season, which is a great time to buy.
Image from Toytoy on the Wikimedia Commons