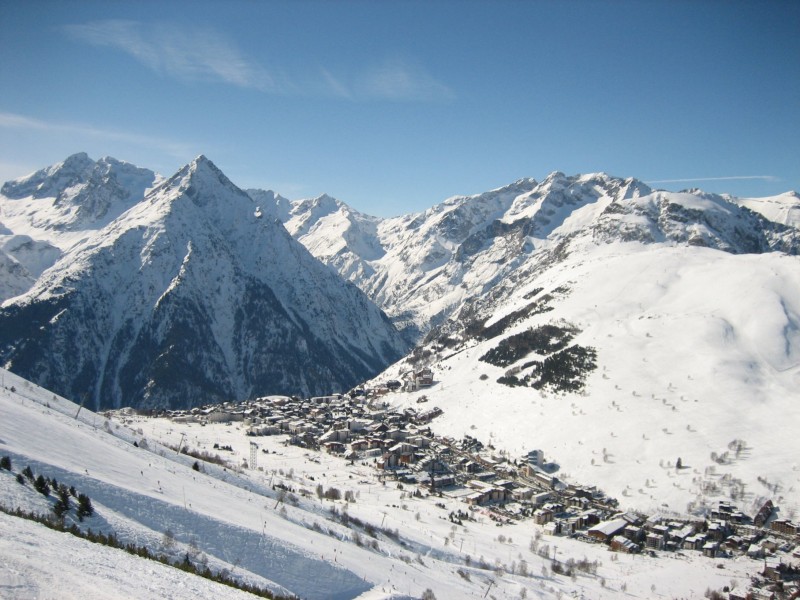 For those of you who simply cannot seem to get enough snow during the winter months, the onset of summer can be something to dread. Luckily, in the summer there are still a number of locations in the United States and Europe which typically have snow-covered peaks. Traveling to the Southern Hemisphere is another option, with places like New Zealand and Australia that boast ski havens catering to people from beginning to advanced levels.
If you're looking to stay within the United States, some of the best places for summer skiing are Oregon and Alaska. Mount Hood, Oregon is one of the top in the U.S. to travel to for skiing during these months, with Timberline Resort as one of the most popular destinations. Skiing and snowboarding is made possible by Mount Hood's location in the center of the state on top of Palmer Glacier, sitting at about 6,000 feet above sea level. Southern Alaska's Chugach Mountains provide another mecca for die-hard snow enthusiasts in the summer, with Thomas Pass as the target. This pass, located about 20 miles from Valdez, gets about 1,000 inches of snow each winter, making snow sports available throughout the summer months. The Chugach are home to the World Extreme Skiing Championships but also offer milder runs, making this a place for professionals and beginners alike.
Switzerland is a prevalent location for snow lovers, and the Klein Matterhorn in Zermatt provides skiers and snowboarders with the highest summer skiing in the Alps. In addition to having the highest elevation, this is also the location of Europe's largest snow park. France is another option for summer travel, as the Les Deux Alpes are open for skiing from June through September. The resort sits on the biggest glacier in Europe that is open for skiing and is the second oldest ski resort in France next to Chamonix on Mont Blanc mountain. which is the largest in western Europe.
New Zealand has two locations that are of particular importance to mention. First is Cardrona, which is in the center of New Zealand's South Island and is a great location for beginning and intermediate skiers to pay a visit to. For more advanced skiers and snowboarders, Queenstown is about an hour away from Cardrona and offers the hot spots of Coronet Peak and The Remarkables. The first has a paved road that stretches to the top of the ski area and the second has fantastic black runs for more experienced skiers. This is not to say there is no place to ski for those just starting out, as there are suitable runs for every level.
Australia's states of New South Wales, Tasmania and Victoria are all ski destinations during the Southern Hemisphere's winter, along with the Australian Capital Territory. Falls Creek Ski Resort in Victoria is one of the most popular landing places for snowbirds, with the season lasting roughly from June to October. There are almost 100 runs for downhill skiers and more than 20 different cross-country trails. Purchasing a ticket in advance that encompasses a package of skiing options is the cheapest choice when planning a trip to Falls Creek, as single-day passes can get expensive.
If Argentina is where you have your eye on, check out the Bariloche Ski Resort on the Alps in South America. With approximately 62 miles of runs, Bariloche is the most immense resort in Argentina and incorporates all levels of skiing and snowboarding. Although the resort's given name is Cerro Catedral, because of its close location to Bariloche, the name stuck. The ski resort is housed within the Nahuel Huapi National Park in northern Patagonia and visitors will enjoy beautiful views of the surrounding mountains, with several other ski resorts nearby.
Image from Wurzeller on the Wikimedia Commons