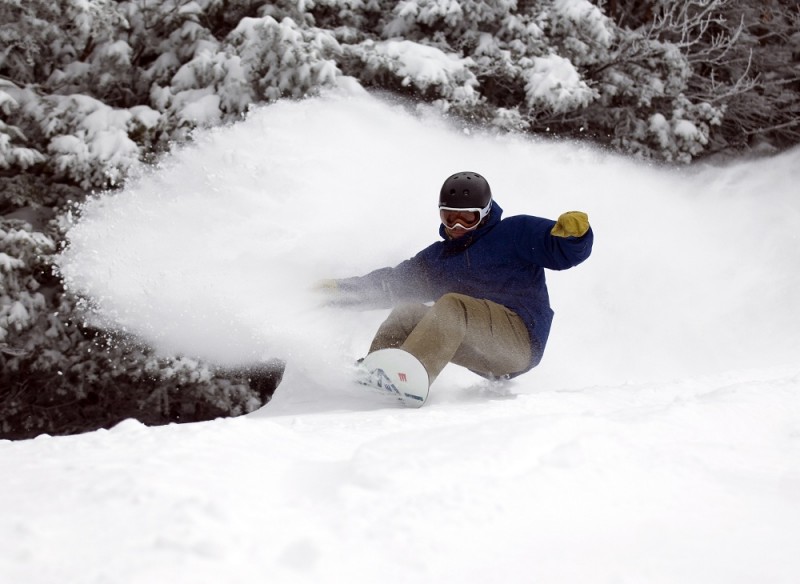 Got cash?
If so, buy next winter's ski and snowboard pass now, or real soon, for the best deals.
Across ski country, there are a bevy of so-called "super passes" out there linking local, regional, national and international resorts with deals. Some are season passes while others are more like samplers, allowing skiers and riders a chance to buy multiple tickets at various resorts for a discounted rate.
Vail Resorts has souped up its Epic Pass by including Eldora Mountain Resort, a 53-trail area in Nederland, Colorado about 50 miles from Denver and 20 miles west of Boulder. That brings the total to nine resorts in Colorado, California, and Nevada included in the pass that before April 14 costs $689 for adults and $359 for children. The other resorts are Vail, Beaver Creek, Keystone, and Arapahoe Basin in Colorado with Heavenly, Northstar and Kirkwood in Lake Tahoe.
The Epic Pass comes with five days of skiing at Verbier in Switzerland too, up from three.
"Vail Resorts' season passes give our guests the ability to choose what pass product is right for them based on which resorts they prefer and how much they plan to ski and ride next season," said Vail Resorts Executive Vice President and Chief Marketing Officer Kirsten Lynch. "We encourage all of our guests to purchase their passes in the spring to take advantage of the lowest guaranteed price for the next winter season."
For those thinking ahead to a 2013-14 winter vacation the new Epic 4-Day pass allows up to 30 percent off lift tickets at the participating resorts for $349 for adults and $199 for children (this year spring rate).
For example, 4-day tickets at Keystone's walk-up windows are $476.
There is also an Epic 7-Day with a spring rate of $529 for adults and $269 for children.
The Mountain Collective Pass with resorts in Colorado, Utah, Wyoming, California, and British Columbia is offering limited quantities of its pass at this season's rate of $349, but that discount is nearly sold out.
The pass allows two days of skiing at each resort: Alta, Aspen/Snowmass, Jackson Hole, Mammoth, Whistler Blackcomb, and Squaw Valley/Alpine Meadows.
The pass also entitles holders to unlimited 50 percent off lift tickets.
"The Mountain Collective successfully captured the imagination of mountain travel enthusiasts looking for variety, flexibility and affordable access to the best independent resorts in the world," said Aspen Skiing Company vice president of marketing Christian Knapp.
In New England, four White Mountain ski areas across New Hampshire have joined forces for the White Mountain Superpass including Bretton Woods, Cranmore, Cannon Mountain and Waterville Valley.
Valid every day at all of those resorts, the early-purchase price at www.WhiteMountainSuperpass.com before June 1 is $949 for adults, $549 for teens and $449 for children.
"We think it's a fantastic value and certainly one of the best combined passes in the East," said John DeVivo, Cannon Mountain's general manager. "The Superpass really gives skiers and riders amazing options when it comes to choosing where to take their next ski trip."
The new White Mountain Superpass will give skiers and riders access to a combined total of 284 trails, 41 lifts, 1,148 acres and 6,900 vertical feet.
"From Cranmore's focus on families to Cannon's 4,080-foot summit, every ski trip with the White Mountain Superpass can be a new adventure. And we're all an easy drive from Boston and each other," said Cranmore's general manager Ben Wilcox.
One advantage to certain season passes is the chance to buy them cheap for next season but also use them for the remainder of this season.
That's the deal with the 2013-14 New England Pass linking Sugarloaf and Sunday River in Maine with Loon Mountain in New Hampshire's White Mountains.
It's possible that at least one of those resorts will continue operating until May. All three fired up the snow guns in March.
The early season rate is good until April 30.
There are a few options. The Bronze Pass is an all-ages pass with midweek non-holiday access for $369 while the Silver New England Pass for adults is good every day but 13 blackout dates for $665. The unrestricted Gold New England Pass is $999.
Image by Greg Keeler/Cannon Mountain