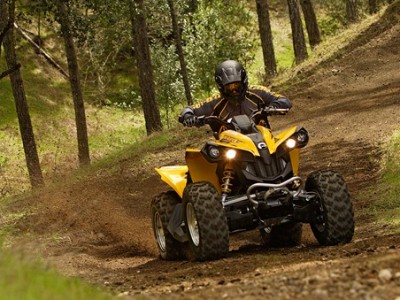 Does the thought of taking a luxury RV to a tourist park with amenities like heated showers, concessions and many nearby fellow campers appeal to you? If you're a "survival camper," probably not. You need the solitude and wilderness to experience what you consider true camping.
However, getting to remote wilderness sometimes requires a little more than a walking stick and a good pair of hiking shoes. An ATV, or all-terrain vehicle, can help you get to your off-the-beaten-path a lot more easily, provided it has a good set of ATV tires, gas–and a rider with a little operational knowledge.
U-Haul
First, you'll have to haul your ATV where you want it to go. ATV.com provides a list of tips for safely hauling the vehicle, including engaging the parking brake on the ATV while secured to the trailer and using multiple straps crossed left to right and right to left to ensure no movement of the machine.
An important thing to remember is that you still have to remember basic rules of the road. When coming to a blind corner, for example, slow down and stay on the right side of the path, advises ATV Tips. Lean into the turn as well. You might be in the middle of the forest, but someone else might be as well.
Also, learn basic functions such as using the throttle, brakes, gear selector and lights. Most ATVs have three different brakes–the parking, right-hand and foot brakes–so get familiar with all three.
Drive Slow, Homie
Not surprisingly, driving in the back country eventually should involve traversing ruts, which are challenging and could tip over an ATV. When you come upon a rut, put both wheels on the rut edges and drive slowly, following the rut's path, ATV Tips advises. If you feel like you're going to tip over, assume that will happen and stop. Carefully back up, or get off the ATV and decide what to do next. Steering the ATV from the ground and into a better position puts you out of harm's way should the vehicle turn over.
A flat tire also is a distinct possibility, so be proactive and invest in an ATV tire sealant, an ATV repair kit and an air pump. However, fixing a flat on the trail is just to get you home. When the trip is over, have the tire professionally repaired or replaced.
What to Wear
Highball Blog has more tips for the beginning ATV rider/camper. Protective gear such as helmets, gloves, goggles, boots and protective jackets plus pads for knees and elbows are among the items recommended for a trip. A tire-pressure gauge also isn't a bad idea.
A first aid and survival kit probably is something you'd bring along anyway if you're a serious survival camper, but that suggestion bears repeating. A few bandages may not be enough to fully satisfy the medical needs. Staying safe is the number one thing to focus on, even while taking some sweet jumps.