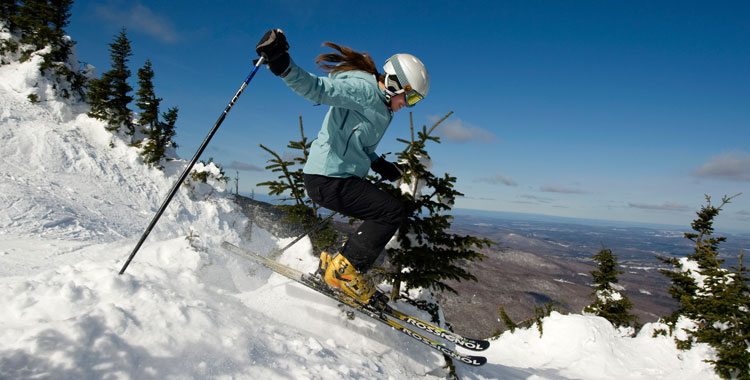 Sharp and hard-core skiers and snowboarders bought their season passes before the leaves fell. Others already made the pilgrimage to the ski shows to scout for discounts for the upcoming season.
The lifts have barely started turning. Does that mean the masses are behind the proverbial eight ball for skiing and riding discounts?
No way.
The web and social media are steeped in opportunity, and don't forget the personal touch either.
It can be a simple as liking a ski area on Facebook to pave the way for a deal or signing up through a ski area web site for their e-newsletter. For example, western Maine's Sugarloaf has a standard weekly newsletter that tends to be newsy with conditions, season pass offers and event updates but there's another.
"We have a separate e-newsletter, however, called our 'Hot Deals Newsletter' which will be starting up for the season next week and includes time sensitive, limited availability offers that can provide huge savings," says Communications Manager Ethan Austin.
Bookmark your favorite ski areas and keep watch. Look for two-for-one days, deep midweek offerings and discounted Sunday afternoon tickets on some sites. It's all about staying in tune with the discount connection. Some ski areas often have discounted lift tickets online through their websites that yield savings just by purchasing then instead of at the ticket window.
Plus, you might want to ski and ride at night to save some money. When the sun goes down, head to the slopes. Night skiing often yields savings.
Liftopia.com is a must before starting any ski country road trip, be it day or several. The website has discounts ranging from about 20 to 60 percent and often more to more than 200 ski resorts across North America. The idea is to boost business on ho-hum skier days, typically mid-week. Skiers and riders buy non-refundable tickets for specific dates. It's possible to buy rentals and lessons too. The downside is you might not be able to find your favorite resort, but chances are there's another nearby.
Many ski country resorts belong to a state-wide marketing association with web sites that often contain information on deals. These make for excellent portals into the wonderful world of savings. Best bet is to bookmark pages like coloradoski.com, skinh.com, skivermont.com, skiutah.com, iskiny.com and skimaine.com. They contain a vast amount of information like conditions, events (often featuring discounted lift tickets) and ways to save. Ski-and-stay packages are often there too, especially early season money-savers.
"Guests have learned that by taking advantage of early season deals and booking their ski vacation early, they will yield the biggest savings and end up with a ski trip that fits their budget and needs," said Colorado Ski Country USA President Melanie Mills. "Resorts are able to leverage their partners in lodging, ski school and equipment rentals and put together some very creative and attractive packages."
Also offering discounted ski vacations is ski.com. The ski-and-stay packages are found across the country (and beyond) with most of the offerings found in the western United States.
Travel websites like Orbitz and Expedia, as well as airline sites, also offer ski vacation packages.
Have a favorite area? Buy a discount multi-pack card that nets savings that can translate into a few rounds during après-ski.
Several ski area also offer free skiing on a select novice lift.
Older, active skiers are subject to discounted rates depending on age and ski area. There are even ski areas that allow certain aged seniors a free ticket, but that's not the norm across the board. The 3,000-plus member 70+ Ski Club keeps members abreast of senior discounts.
Of course, you don't have to wait until you're a senior to reap the benefits of a ski club. Across the country skiers and riders enjoy the camaraderie of carving through the snow made easier by group buying power for discounted lift tickets. The lodging is often affordable and apres ski and dinners loads of fun.
Not every deal is found online. Sometimes it's good old-school personal connections. Often hotels, motels and B&Bs in a ski town will have discounted lift tickets for sale.
And when you bring your boards in for a tune-up, keep an eye out for local lift ticket deals.
Says Ski Utah communications director Susie English based in Park City, "I know a lot of the local ski shops sell discounted lift tickets and you can buy packs of lift tickets at Costco for some of our local resorts."
So be sure to look up from your smartphone every once in a while.
Photo courtesy of Smugglers' Notch, Vermont