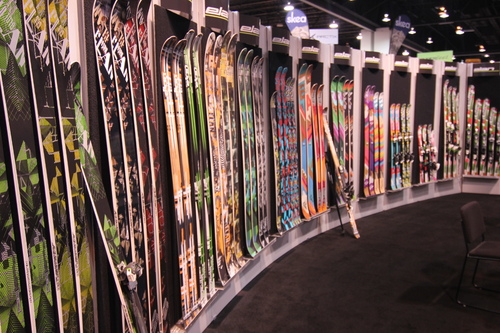 What skis should I buy?
EpicSki is a great place to ask this question because we have plenty of experts and peers ready to help you make the right decision. If you come to them with the answers to the following Five Key Questions, your chances of getting a spot-on recommendation (and maybe even scoring a great deal) are increased exponentially.
Where in the world are you skiing?
What kinds of terrain do you prefer (groomed runs, moguls, race course, park'n'pipe, trees, steeps, backcountry/sidecountry)
How many days a year do you ski?
How advanced are you as a skier?
What's your height and weight?
Secondly: Are you looking for one ski to serve all purposes or are you adding a ski to your collection to fit a specific purpose?
If you are looking for one all-purpose ski, you will probably not be happy with a specialty ski, such as one designed specifically for powder or for the terrain park. As the name implies, the best all-purpose ride is the all-mountain ski, because, as EpicSki Gear Guru SierraJim explains, "stance and sidecut is set back from center to improve weight and pressure distribution toward the aft 75% of the ski. Sidecut involves 'taper' from the tip to tail to improve hookup in the front and release at the back. [They also have a] firmer flex (especially in torsion) to improve the grip and stability on hard or other detrimental conditions."
These factors enhance normal skiing performance but run counter to park performance. SierraJim continues, "Park skis have the stance and sidecut set forward to balance the skier's weight in the physical center of the ski. These skis employ a symmetrical sidecut (or close to it) to balance pressure evenly when skiing normal or switch. Their typically softer flex (especially in torsion) in the fore and aft butter zones make the ski less catchy in wall transitions. These factors all serve to improve the performance in the park but they are invariably a detriment outside the park and especially on very hard or very heavy snow."
Unless you only ski on powder days, SierraJim advises staying away from anything wider than 110mm. "Think about it: in 10 days each in the west and in the mid-Atlantic how many days of greater than 12″ do you expect you'll see? True powder skis or skis well over 110mm will certainly do a better job on those days but will of necessity not do as well on days when there is no recent snow. So.you might do a priority check to see if a powder-biased ski is what you want."
Regarding the width of a prospective ski and the conditions you ski, EpicSki Pro SkiDude72 has this advice: "The harder the snow and the wider the skis, the harder they are on the knees due to lateral torque created by the width. Furthermore, you will have less edge hold. On soft snow, you won't notice the extra torque as bad. To find your ideal width, you need to think about the conditions you DO ski, not what you WANT to ski. We all want bottomless powder all the time but very few people actually get that.
Regarding Ski Length Sizing
Skis with any kind of early tip rise will ski "shorter," so take that into account when sizing skis. Please see these specific articles on ski sizing:
This article originally appeared on EpicSki.com and is republished with permission.
Featured image from Epic Ski, Skier image from Skidmarks via EpicSki