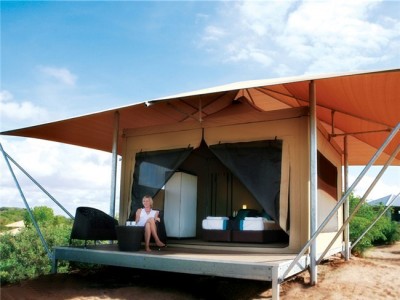 If you follow the trends in the travel industry, you've probably heard all about this new niche called glamping.  You know that it is synonymous with luxury camping, that it embraces environmentally friendly practices, and that it is a way to enjoy the outdoors without having to get down and dirty.  What you may not know is how to choose the best glamping site for you…to match your personal style, your vacation wish list, and, of course, your wallet.  Here are Glamping Hub's top 10 questions you should ask yourself before choosing the perfect glamping site:
1. What do I want my shelter to look like? The best thing about glamping is that there are an incredible variety of alternative accommodations available.  However some types of lodging may be more appropriate for your specific vacation needs than others.  Tree Houses have incredible canopy views but might not be suitable for young children.  Igloos are out of this world but are obviously only found in rather chilly areas.   Tipis can be surprisingly spacious but do not typically offer en suite washrooms or kitchens.  You should weigh the pros and cons of each lodging type to determine the amenities and features that are the most important to you.
2. What kind of view do I want? When you step out the door of our yurt, caravan, or safari tent in the morning, what do you want to see?  A clear blue lake?  The African desert?  Dense, green forest? The sparkling sea?  Rolling hills of grape vines?  The backdrop you choose will not only help dictate the location, but will also give you an idea of type of experience you will have.
3. How much do I want to spend? Prices for glamping sites vary greatly and depending on where you are travelling, a little can sometimes go a very long way.  For example, the premier luxury camping sites in the U.S. can exceed $1,000 per night, but in another corner of the world, the same level of luxury could be half the price.  Once you determine your ideal location, you can explore the different price point options in that area.  Higher prices do generally equate to more luxurious amenities, but sometimes the more modest accommodations have the most spectacular settings.
4. Is there such a thing as too much luxury?  For travelers just graduating from traditional camping or working with a tight budget, the most extravagant sites may be a difficult leap.  If heated floors and a personal chef seem a little over the top, don't worry, there are a plethora of sites that make up the middle ground of luxury.
5. How much energy do I have?  Every glamping site offers different daytime and evening activities for its guests.  The vast majority of sites will allow you to be as active or inactive as you desire, but some sites do specialize in specific types of adventure.  If you are looking for pure relaxation, sites that offer complete seclusion, spa services, or beach access might be up your alley.  If you are looking to shake off excess energy, sites that offer wilderness tours, sporting excursions, or planned activity programs might do the trick.  Be sure to look at the list of activities offered before making your reservation.
6. How many people am I traveling with? Not every glamping site is suitable for large groups of people.  Some sites only have one or two rooms and others will have restrictions on the number of people who can stay in each room.  If you are traveling with your family, be sure to find out if the rooms include additional beds for children.  It is also important to check that the site accepts young children.  Some tree houses, for example, have a minimum age for safety reasons.
7. Do I have any phobias?  This might be obvious, but if you have a fear of heights, a tree house is probably not for you.  If you have a fear of wild animals, an African safari might not be for you.  You can even find rooms that are suspended in the air, so if you get seasickness, you might want to pack some preventative measures.  The vast majority of glamping sites are firmly on the ground and safety is always paramount to the site owners.  If you have specific questions or concerns, don't hesitate to ask the site owner directly.
8. Do I want to cook or be cooked for?  Along with the wide variety of price points and lodging types, there are also a wide variety of food options.  From personal chefs, to lodge restaurants, to private kitchens, to campfires.  Sometimes a site will offer multiple options but be sure to ask the site owner so that you can be prepared with your own sustenance if necessary.
9. Do I have any special needs? Even though you are out in the wild, there are some glamping sites that offer special services like wheel chair access.  Before choosing your site, it is important to let the site owner know what kind of services you or your fellow guests would require.  It is also important to determine whether there are any medical emergency procedures in place.
10. How connected do I want to be? Cell phones, tablets, laptops, video games…you might want to be able to use all of these things on your glamping trip.  Be aware that not all sites have wireless service or outlets to charge these devices and some might not have electricity at all.
Once you've answered all of these questions, you might realize that just one glamping trip won't be enough to satisfy all of the items on your wish list.  Well, that is certainly a good problem to have, as there are 52 weeks and weekends in the year!
Images courtesy GlampingHub