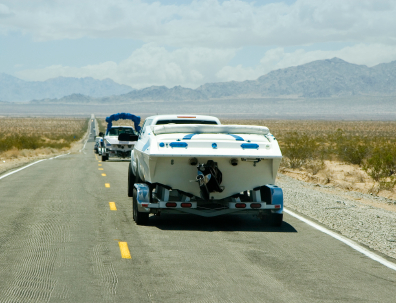 Semi-trucks flying by, scorching pavement, glaring at two flat tires. This is the predicament Ohio boater Justin Clements found himself in during his 4thof July family boating adventure. What he hadn't planned for soon turned into an overnight stay in Kentucky, impatient kids, and a burnt shoulder from crawling under the trailer to set a jack. To make matters worse, the spare he just put on was flat.
This story brings up a very important concern for those traveling boaters out there: Are you really ready to travel? Labor Day is right around the corner and is the perfect opportunity for a fun trip.
Traveling to new waters includes more planning than one might think. Are you legal? Is your vehicle ready? Have you filed a float plan? Who will have that float plan? Did you find a nautical chart for the location? These  questions plus many more should be answered well before you hitch up the boat.
The first consideration is legality. In most states, a state-approved boating education certificate is required. If you don't have your boater education card or boating license, complete your certification before you travel. Boat Ed's online course includes informative videos, realistic illustrations and interactive animations. Once you pass the course, the rule of reciprocity kicks in and you are allowed to boat in any state that accepts your approved boating education certificate. Don't forget to review that state's rules and regulations, which are downloadable as e-books for many states.
Just like your home waterways, it's always important to have a clearly defined float plan. Find a person ahead of time to manage your float plan. For example, if you are traveling to a resort in Wisconsin, reach out to the resort owner ahead of time to develop a plan of action. What if you're taking a multi-state trip? In that case, find a family member or friend you can check in with on a regular basis at a set time. Should he or she not hear from you, they can reach out to the authorities in the area you were scheduled to be.
Another important step is to study the body of water beforehand. Tim Smalley, former Boat and Water Safety Information Officer for the Minnesota DNR, recommends, "When traveling to a new body of water, be sure to get a nautical chart for that specific area. Study it for problem areas. Then, when you arrive at your destination, talk to local boaters about the area." You should become familiar with your location of interest to minimize any surprises once you get there. Rather than finding yourself in a problem area, you can go in educated, and come out safe.
After that, and before you hit the road, make sure your ride is ready to go. Check to see that trailer lights are in good working condition:  turn signals, night-lights and brake lights. Double check tire pressure and bring an inflated spare tire, or two if you are Justin Clements. In the case of a blown tire, have a mat to protect yourself from the heated pavement. Once on the water, practice all the typical safety procedures involved in everyday boating. A U.S. Coast Guard- approved life jacket should always be worn when on the water.
So, what's the moral of the story? Plan ahead of time when taking a big trip, and enjoy the water.
You can learn more about boater safety by taking an online boater safety course at www.boat-ed.com. The training offered at this site is approved by the state agencies responsible for boating safety education, and it's the same material that's taught in the classroom.
Studying at boat-ed.com is free. Those who must be certified to obtain a boater education card or boating license pay a one-time fee, which is due only if they pass the course. Online boater safety courses are available in participating states, so visit www.boat-ed.com to take a course specific to your state.
Image © iStockPhoto.com/MCCAIG