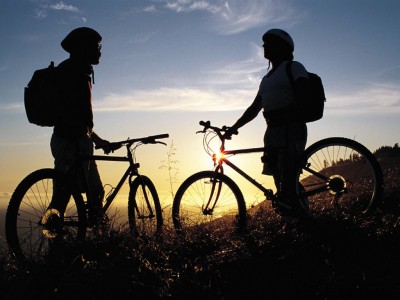 London is best known as the capital concrete jungle of England, but it actually has a huge amount to offer adventure sport fanatics. You don't need to go far from the centre of the city to find miles and miles of rolling countryside and endless potential for outdoor fun and excitement. You just need to know where to find it! Let's have a look at what's out there!
Rock-climbing in London
You're not going to find world-class mountains to climb in London and you'll be lucky to experience suitable outdoor climbing weather, but you will find some  outstanding indoor climbing facilities. There are three places to choose from but The Castle is widely considered to be the best in town. You'll find bouldering walls, secured top-roped climbs and lead routes. Set in a an old Victorian water pumping station, this impressive structure looks like a fairy tale castle complete with Rapunzel towers and defence towers. The facilities are staggered over two floors with crash matts, bouldering walls and something for all levels of climbers. For more experienced climbers the roof is fully climable and offers an intense challenge.
Address: The Castle Climbing Centre, Green Lanes, London, N4 2HA
Getting to The Castle
Manor House, on the Piccadilly line, is the nearest underground station. Take exit 3 and walk down the Green Lanes for 3 or 4 minutes, you'll see the towers of the Castle before anything else. 
Cycling and Hiking in Richmond Park
You can actually get the underground tube line from central London to Richmond, and then walk to Richmond park, which shows how easily accessible it is from the city. In fact, the journey will only take you about 30 – 40 minutes but you'll be amazed at how different it the surroundings are. Its close proximity to popular London hotels means that you can stay centrally, see the sights and still escape to get your fix of adrenalin all in one day.  Families of wild red and fallow deer run free through the 2,360 acres of land and you'll also find woodpeckers, parakeets and stag beetles. A road hugs the circumference of the park, and others cut through it in various different directions, making it ideal for cycling – serious cyclists tear around on top-of-the-line road bikes, but it's also family friendly and you'll see cyclists of all ages and abilities. Cars are limited to 20 miles per hour which means that cyclists definitely dominate the roads. Foot paths criss-cross the grounds in, what seems to be, no particular order. Hikers and runners are treated to immense freedom and beautiful views, something that attracts hundreds of people from the city, and further afield.
Getting to Richmond Park
Underground and/or Train:
Richmond Station – British Rail or District Line (and then catch the 371 or 65 buses to the pedestrian gate at Petersham)
by Bus
190 Hammersmith – Richmond
391 Hammersmith – Richmond
419 Hammersmith – Richmond
Skate Parks
Skating, BMXing and many other extreme sports are immensely popular in London whose streets act as the perfect playground. There are countless unofficial skate spots in and around London but the skate parks are something the city's residents should be proud of. One of the best parks is Cantelowes Skate Park situtated on Camden road. It consists of a huge bowl section with ledges, driveways, hips and rails. It's a popular spot but the locals are friendly enough and you'll get a few runs to yourself. If you're new to skating and need to rent some gear, you'll find countless skate shops close by that are happy to rent you a board and a descent pair of skate shoes – just remember to wear a helmet!
Address: Cantelowes Skate Park, Camden Road, London, NW1
Getting to the skate park
Buses: 29, 253 & 390
Tube: Camden Town, Northerm Line
Rail: Camden Road Overground
Image courtesy Nucleus Surf Snow Skate