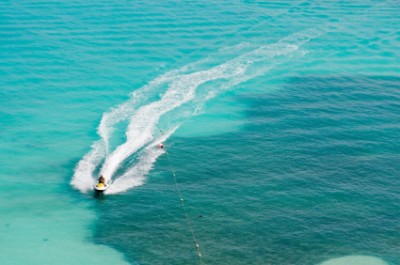 In an instant, a fun day on the water turned into a tragedy when R&B star Usher's stepson was struck by a Jet Ski while tubing behind a speedboat. In a rash of accidents involving personal watercrafts, 216 injuries and 16 deaths have occurred this year alone, according to U.S. Coast Guard statistics. In the wake of this sad news, it's important to understand how you can prevent an injury or death when operating personal watercrafts. There are numerous steps you can take to become safer on the water. For starters, make sure you take a boater safety course and get your boater education card or boating license. Next, read your owner's manual to become familiar with the equipment. Then, before going out on a personal watercraft, check with your state's boating agency to find out the laws for your state. In many states it is illegal to:
Operate a personal watercraft between sunset and sunrise.
Jump the wake of another watercraft recklessly or unnecessarily close.
Operate a personal watercraft within 50 feet of other watercraft, structures, swimmers or shoreline unless at no-wake speed. Keep your distance.
Another important factor is to remember that your machine is much smaller than others, making you harder to see. Think of a motorcycle versus a semi-truck; now apply that concept to the waterways. It is imperative that you, the operator, watch for other boat traffic. Here are a few rules of the road:
Cross ship channels only when necessary. When crossing, be sure to check numerous times for oncoming traffic and then cross quickly.
Give way to ships, larger boats and sailboats, due to their lack of maneuverability.
When overtaking another boat from behind, pass with care and distance on the right or left of the boat or watercraft.
Ride the wake of other boats at a safe distance (50 feet or more), and know for sure that there are no passengers in tow.
As with any watercraft, be sure that all passengers are wearing a U.S. Coast Guard-approved life jacket in the case that someone falls off of the watercraft. Along with wearing a life jacket, attach yourself to the safety ignition switch by a lanyard.
httpv://youtu.be/oNb1VayKLT4
Finally, brush up on state-specific boating regulations and safety information; Kalkomey's official boating handbooks are downloadable for most states as e-books. By taking these precautions and forming a safety conscious mind, you are minimizing your risk on the water.
You can learn more about boater safety by taking an online boater safety course at www.boat-ed.com. The training offered at this site is approved by the state agencies responsible for boating safety education, and it's the same material that's taught in the classroom.
Studying at boat-ed.com is free. Those who must be certified to obtain a boater education card or boating license pay a one-time fee, which is due only if they pass the course. Online boater safety courses are available in participating states, so visit www.boat-ed.com to take a course specific to your state.
Image © iStockPhoto.com/Chad McDermott