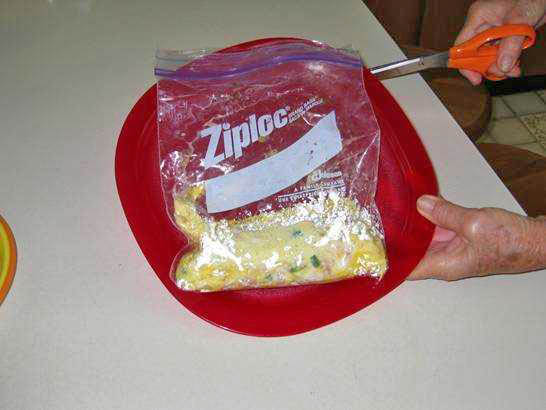 These omelets are delicious and quick as well as fun and easy for children to prepare while camping out or at the fishing camp. Our grandkids have enjoyed making these omelets ever since our good friend, Greg Tinsley at Mossy Oak, gave us the recipe.
Ingredients:
2 eggs per person
Shredded cheeses, ham, onions, green peppers, tomatoes, hash browns, salsa, bacon, herbs, seasonings
1 quart-size freezer bag per person
Preparation:
Write each person's name on both sides of the bag. Crack two eggs into each bag, and have each person add their favorite omelet ingredients. Press the air from the bag, and seal it. Gently shake the bag, and squash the contents. You can prepare the omelet bags before you leave for camping and put in your cooler with ice. Be sure to use them within 24 hours. Place the bags on your Coleman stove or grill, and boil the water for 13 minutes. Cut the bags, and roll out the omelets.
Images copyright John and Denise Phillips/Night Hawk Publications