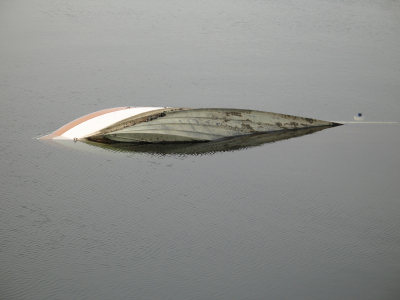 Nobody ever imagines being involved in a life or death situation because their boat capsizes or swamps. Dave Mull, writer, photographer and senior editor for Lakeland Boating Magazine, could tell you different. Mull spent 3 ½ hours adrift on Lake Michigan, clinging to a Coleman cooler after the boat he was on sank. While Mull and his friends lived to tell the tale, he admits there are things he would do differently to avoid an emergency or better cope with one.
While you may think bad weather or hazardous sea conditions are to blame for most boating fatalities. The truth is they typically occur during daylight hours when weather and visibility are good, the winds are light, and the water is calm. Despite these ideal conditions, passengers fall overboard and many boats capsize, causing more than half of all boating fatalities.
There is a difference between capsizing and swamping. Capsizing is when a boat turns on its side or turns completely over. Swamping occurs when a boat stays upright and fills with water. Sometimes a person falling overboard from a boat causes the boat to capsize or swamp. Regardless, the outcome is the same—people are in the water unexpectedly.
Preventing Capsizing, Swamping, or Falling Overboard
The following guidelines will help you prevent and prepare for capsizing, swamping or falling overboard.
Avoid sitting on the gunwale, bow, seat backs, motor cover or any other area not designed for seating. Also, don't let anyone sit on pedestal seats when operating at a speed greater than idle speed.
Make sure that you and your passengers are wearing life jackets while the boat is underway.
Attach the ignition safety switch lanyard to your wrist, clothes or life jacket.
Don't overload your boat. Balance the load of all passengers and gear.
Keep your center of gravity low by not allowing people to stand up or move around while underway, especially in smaller, less-stable boats.
In a small boat, don't allow anyone to lean a shoulder beyond the gunwale.
Slow your boat appropriately when turning.
Don't risk boating in rough water conditions or in bad weather.
When anchoring, secure the anchor line to the bow, never to the stern.
Check out the boat education video embedded below for more information on how to reduce the risks associated with capsizing, swamping and falling overboard.
httpv://youtu.be/JqFgmO_ZjD8
You can learn more about boater safety by taking an online boater safety course at www.boat-ed.com. The training offered at this site is approved by the state agencies responsible for boating safety education, and it's the same material that's taught in the classroom.
Studying at boat-ed.com is free. Those who must be certified to obtain a boater education card or boating license pay a one-time fee, which is due only if they pass the course. Online boater safety courses are available in participating states, so visit www.boat-ed.com to take a course specific to your state.
Image courtesy Boat-ed