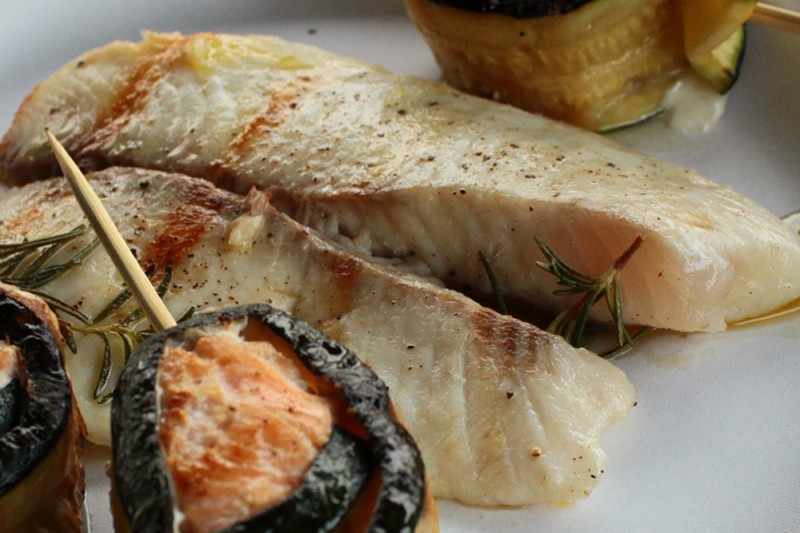 This will be a recipe to impress your friends and fellow campers. Not only is the recipe quick and easy, but it requires very few ingredients without sacrificing flavor.
Professional Chef Dawn Bause is very in-tune with her Italian side. She spent years in Italy and now incorporates many aspects of fine Italian cooking like using a generous amount of olive oil (sent to her from Italy), only one herb per dish (as the Italians do) and she has no aversion to using cream, cheese or carbohydrates.
She advises planning ahead when you know you are going to cook in the outdoors. In the video demonstration below, she has cut up her vegetables and prepared her fish ahead of time. In separate Zip-loc baggies, everything is portioned and cooled properly.
While Bause likes healthy cooking, "healthy" to her doesn't mean "without flavor." Below is her recipe for a delicious, healthy tilapia fish grilled on a charcoal grill with rosemary and olive oil. Watch the demonstration below and the second video below that for a twist on the recipe.
Charcoal-Grilled Rosemary Tilapia
[ohubvideo code="htNzFtNDrgBEJHBknmrEIULxsGsVst_j"]
Ingredients:
2 sprigs of fresh rosemary
1 or 2 tilapia fillets
extra virgin olive oil
high-temperature non-stick spray
coarse salt and fresh-cracked pepper (to taste)
Directions:
Get your coals going on a standard outdoor charcoal grill. When lit throughout, carefully press aluminum foil into the grill to get grill marks. Spray with high-temperature Pam or drizzle evenly with olive oil. Drop tilapia onto the foil and immediately salt and pepper the fish. Drizzle with a little bit of oil afterward. Let stand for a few moments then put one sprig of fresh rosemary under one side of the fish, and one sprig next to, or under, the other side. Cook for about 4 – 5 minutes on this side (until the fish starts getting white on the edges and in the middle). Flip the fish onto the other side once, cook for another 4 – 5 minutes. You know the fish is done when you take a fork to it and the fish gently flakes away.
Baked Rosemary, Tomato Tilapia
For a variation of the above recipe, try baked tilapia with rosemary and grape tomatoes. Pre-cut your tomatoes ahead of time and seal in a Zip-loc bag. Prepare the fish as above but do not cook on the grill, instead wrap it in the aluminum foil and toss in near the embers in the campfire. Watch the video below to see how to make a sturdy packet of aluminum foil.
[ohubvideo code="BoYXdsNDoh7BfRggJxRxJizWEVY5WQUo"]
Ingredients:
1 tbsp extra virgin olive oil
4 sprigs of fresh rosemary
4 tilapia fillets (about 6 ounces each) or any other fish fillets
coarse salt and fresh-cracked pepper
12 cherry tomatoes cut in half
Directions:
Rub the dull side of four large pieces of aluminum with olive oil – one for each fillet. Place a sprig of rosemary on each piece of foil. Place the Tilapia fillets over the rosemary. Sprinkle the fish with salt and petter and place 1/4 tomatoes on top. Fold corners of the foil over the fish and crimp edges to seal into a packet (witness in video above). *If you are preparing this at home ahead of time, keep the fish cold until ready to cook.
To cook, toss the packets in the campfire embers for 10 to 15 minutes. Fish can be eaten right out of the packets or transferred to a plate. Or to grill, place packets on a grill grate set low over a hot fire. Cook for 8 to 10 minutes or until fish is flaky and opaque.
Photos and videos by author.