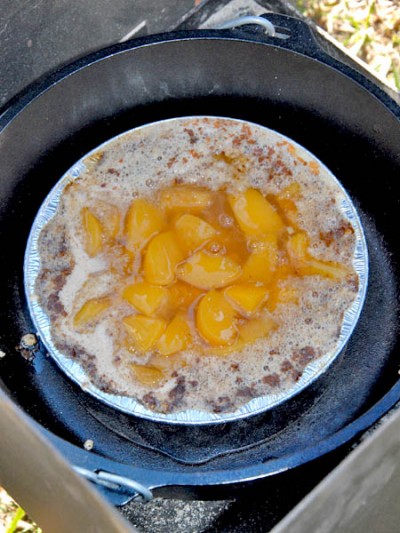 J. Wayne Fears wrote the book on Dutch oven cooking. Well, one of them at least. He's the author of The Complete Book of Dutch Oven Cooking. Fears grew up on Tater Knob Mountain in northern Alabama. His dad harvested and sold ginseng, in addition to trapping, hunting and fishing – like the original mountainmen and survivalists. During his early years, J. Wayne Fears followed along behind his dad and learned how to survive in the wilderness. At college, Fears got a degree in forest recreation and has been an outdoor writer for more than 40 years. Dutch oven cooking was a natural way of life for the Fears family. This article is part of a series on Dutch oven cooking, click here to read the recipes for chuck wagon venison stew and cowboy cathead biscuits.
The early frontiersmen and cowboys had sweet tooths, just like we do today. One of the easiest desserts to make in a Dutch oven is Dutch oven bubbly peach cobbler or bubbly apple cobbler. The recipe is simple.
Dutch Oven Bubbly Peach or Apple Cobbler
Ingredients:
1/2-stick of butter
4 cups peaches or apples, peeled and sliced (or canned)
1 cup sugar
1 cup flour
1 cup milk
Preparation:
Melt butter in bottom of cake pan. Add peaches or apples and sugar. Stir in flour and milk. Place the cake pan in a 12-inch Dutch oven sitting in coals. Bake at 350 degrees for 35-40 minutes.
To learn more about cooking in a Dutch oven, you can buy Fears' book from www.skyhorsepublishing.com.
Watch the video to see Robert Graves demonstrate how to make his bubbly peach or apple cobbler in a Dutch oven.
[ohubvideo code="k4cHBrNDprjRw0QGq8YzE85ybdM0oTdv"]