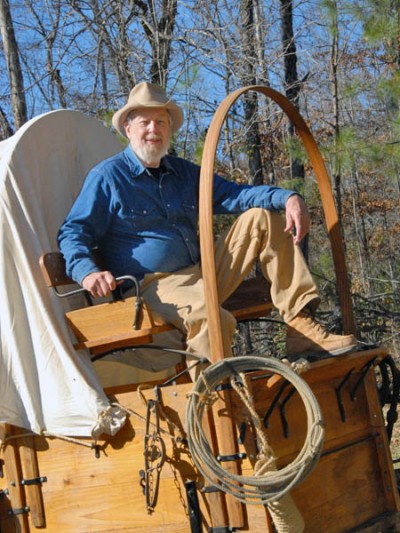 J. Wayne Fears wrote the book on Dutch oven cooking. Well, one of them at least. He's the author of The Complete Book of Dutch Oven Cooking. Fears grew up on Tater Knob Mountain in northern Alabama. His dad harvested and sold ginseng, in addition to trapping, hunting and fishing – like the original mountainmen and survivalists. During his early years, J. Wayne Fears followed along behind his dad and learned how to survive in the wilderness. At college, Fears got a degree in forest recreation and has been an outdoor writer for more than 40 years. Dutch oven cooking was a natural way of life for the Fears family.
J. Wayne Fears and his friend Robert Graves use Lodge Logic cast iron Dutch ovens and a chuck wagon to prepare meals at many different events around the country. When I caught-up with Fears and Graves, they were preparing a meal at the Camp OutAmongEm benefit for Wounded Warriors. They wanted to show their appreciation to the men and women who had left their homes and families to go fight for the freedoms that we all could enjoy. Some of the favorite dishes served at the event where the Wounded Warriors fished and hunted were Fears' Cowboy Cathead Biscuits and Chuck Wagon Venison Stew. One of the advantages of making biscuits when you prepare deer stew is that folks can use the biscuits to sop up the gravy, if the stew's really flavorful. And Fears' venison stew recipe definitely required biscuits, because you just couldn't get enough of the delicious stew or gravy. If you're a member of a hunting club that has a fire pit, or if you build a campfire inside or outside of your clubhouse, consider getting a Dutch oven and making you a pot of venison stew like Fears' recipe. Your hunting friends will be coming back for second, third and fourth helpings.
Fears' Chuck Wagon Venison Stew:
Ingredients:
2 pounds cubed venison
6 medium potatoes, cubed
4 large carrots, cubed
1 large sweet onion, cubed
1 cup flour
1 teaspoon black pepper
32 ounces beef broth
1 tablespoon olive oil
1 one-ounce pack dry onion soup mix
Salt to taste
Corn starch to thicken
Preparation:
Place meat and flour in a large plastic bag. Shake to coat meat. Place olive oil in a cast iron skillet and heat meat on medium heat, stirring often, until medium rare. Place meat and all other ingredients in a 12-inch cast iron pot, and stir to mix. Cook over a campfire for 3-4 hours, keeping the fire low enough to not boil stew, until the potatoes and carrots are soft. If you like a thick stew, use corn starch to thicken about 30 minutes before removing stew from fire.
To learn more about cooking in a Dutch oven, you can buy Fears' book from www.skyhorsepublishing.com.
If you enjoy this recipe, you may also like Fears' cathead biscuit recipe or his navy beans. For some dessert, check out this recipe for peach cobbler.