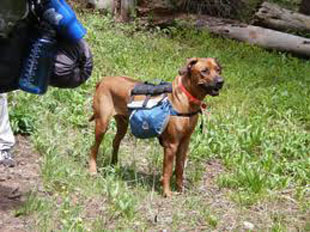 Many of us are dog owners. And those of us who enjoy the weekend, weeklong or open-ended getaway, appreciate having a companion when no other human being can match our schedule. Before you begin your journey, there are a few things to consider for your canine sidekick:
Find a Trail Suitable for a Dog – Find a trail that is canine friendly. Some state and national parks don't allow dogs to enter. Secondly, don't force your dog into a situation that could get him hurt. Rather than storming off through Arizona's Saguaro National Park, littered with cacti, take the desert loop in Catalina State Park.
Find the Right Pack – Make sure your dog carries his fair share. Find a pack that is suitable for his body structure and fits snugly. He can carry his own food, water bowl, and any other accessories he might require over the duration of the trip.
Use Common Sense – When you're ready to camp, make sure you take care of your dog before settling yourself in for the night. Make sure he has food and water, brush him if he's dirty. Keep him close when other people are around.
Regardless, you won't find a better hiking partner than your best friend. He will stay on your agenda and be there when you need him. Whether it's a 10 mile loop back to the car or a four month excursion, you can bet he'll be happy wherever the trail may lead.