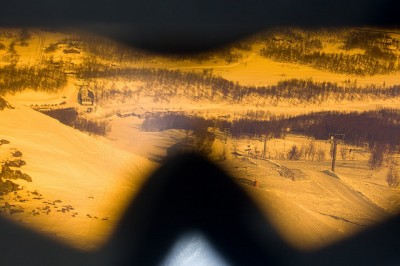 Don't settle for the first pair. Try on a variety of goggles before you make your choice. Consider a few different brands – some tend to fit one head shape better than another.
Look for a frame that fits your facial features. Some goggles are meant to fit small to medium faces, while others, such as the Smith Prodigy are intended for larger faces.
Bring your helmet to the store. Not all goggles fit helmets the same way. If you wear a helmet make sure that the goggles will fit properly.
Look for ski goggles with adjustable straps. This will help you ensure a tight fight to your head, hat, and your helmet.
Ask about the ventilation system. It's terrible to get to the top of the mountain and have to contend with fog on your goggle lenses. Frame vents and air flow can really help here.
Think about the color of the lenses. Orange or yellow lenses can help improve your vision in low light and overcast conditions, while darker, more neutral lenses are better for bright light conditions. If you think you'll be skiing in both, consider getting goggles with removable lenses. That way, you can make sure you'll have the best visibility in either situation. Smith's Sensor Mirror lens is an excellent medium to low light lens. Oakley makes a high intensity yellow lens that performs very well in the lowest light conditions.
Ask about the warranty!
Republished with permission from www.epicski.com.
Photo: (feature) Jonas Bengtsson, (man) Jeremy Jenum