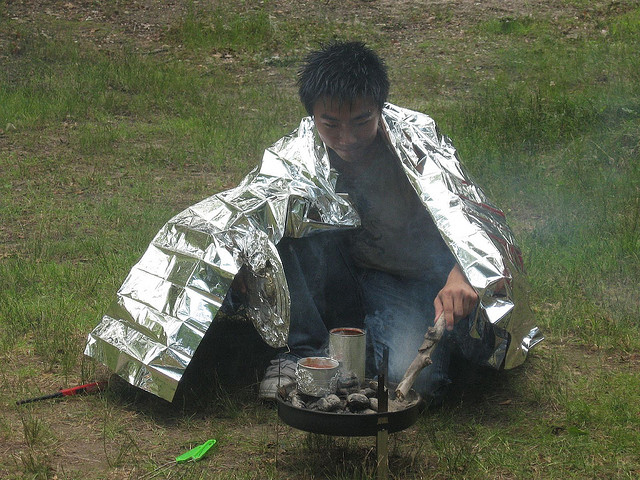 On a trip to Morocco in January 2012, I planned to hike at least one of Morocco's mountain ranges with my boyfriend on our first visit to the country.  We packed emergency bivvys (bags) at the bottom of our packs to be ready for a worst-case-scenario in an unknown country. While we mostly prepared for the hikes, even city-hopping poses risks to unfamiliar travelers and so we also prepared for a night on the street.
Our emergency bivvy sacks came in handy twice on the trip. Once on a freezing overnight train from Fez to Marrakech that I swear was even air-conditioned. We met travelers who took the exact same train the night before us and said it was unbearably cold. They couldn't sleep at all, while we got a pretty good night's rest. The other use was overnight camping in the Sahara desert. Most of southern Morocco lies in the Sahara and while even the days in January are relatively warm (average 60 degrees Fahrenheit), the nights drop to near freezing, at about 38 degrees Fahrenheit and even colder in the deep desert.
For this trip, I had a SOL Emergency Bivvy in my pack. My boyfriend used a SPACE brand Emergency Bag. The difference between an emergency bivvy and an emergency blanket is that a bivvy is a containment bag, while blankets are just one sheet of a single layer, rectangular material. Both are made of the same heat-reflective polyethylene or polyester film.
Below I've outlined a few tips to help you make the most of your emergency blanket so that you can best prepare for your next journey into the unknown.
The emergency material works best when it's directly touching or very close to your body, so wrap the material as tightly as you can around your body. Better yet, cover yourself in your bivvy with another material such as a heavy blanket to push the polyester film closer to your body.
Remove thick layers that prevent your body heat from sending heat to the material, such as heavy jackets, boots, and so on. Don't overdue it otherwise you'll end up too cold to warm up the material properly.
It will take a few minutes to heat up. Don't expect to be warm as soon as you touch the material.
Eventually you might become too hot, causing you to sweat. We started sweating early in the morning as soon as light hit our compartment on the train. Once you warm up, you may not need the bivvy anymore and you will need to come out of it wholly or partially, unless you're in a dire survival situation where you will spend the whole night in your bivvy (such as on a snowy mountain top).
Emergency bivvys shelter you well from wind, but there is no capability of removing moisture. Judge the coldness of your environment and prepare to exit your bivvy easily should you start to sweat. A blanket might be better depending on your situation. It'll be less cumbersome to just pull off to the side or to adjust how much (and which part) of your body is covered by it.
If wind chill is a big factor, a bivvy will perform better in breaking the wind, but even blankets can block the wind. Roll into your blanket and fold the remaining loose material under your feet to prevent wind from cooling you while sheltered. Also spare some material to cover your head like a hood. Both bivvy sacks and blankets are made with ample material to spare, so you likely won't find that an emergency bivvy or blanket is too small for your needs.
One of the most important things – make sure you have a sleeping pad or some kind of surface between you and the cold ground. While an emergency sack will heat your body, it won't insulate you from the surfaces you directly touch like the cold ground of the train station we attempted to sleep on in Morocco. Even a thin blanket beneath us was not enough to keep warm.
If you do not have a sleeping pad or other material to lay down on, take off your outer layer, like your jacket or pants (if you have long-johns on underneath) and lay them out on the ground underneath you and under the emergency blanket as a makeshift sleeping pad. Or get inside your bivvy or underneath your emergency blanket and cover yourself with your jacket or other heavy, outer layers.
The polyethylene material is loud! Consider this when preparing a group outing where you will be sleeping in close-quarters. Every movement is like the crumpling and uncrumpling of loud plastic material. It can sound a little bit like thunder when getting settled in to a comfortable position.
If you are taking your emergency bivvy/blanket into a remote location while hiking, number one – inform someone of your absence. Number two, I advise you to get an orange-colored bivvy. It's the classic distress signal and if something should happen to you and a helicopter is sent out to search for you, the bright orange reflective material will be the easiest to spot. Your emergency shelter can double up as an SOS signal from a distance.
If you are considering taking an emergency material with you for winter camping, I highly recommend it. My advice would be to take an emergency bivvy blanket if you are with other campers, even if temperatures will be freezing. Bring a bivvy sack if you are by yourself. You can share a blanket with other campers by sleeping two or more underneath it. Two peoples' body heat will work well to keep the blanket warm. Also a blanket allows more airflow which reduces moisture and you will not end up sweating as much. One last piece of advice, take two emergency blankets. Most brands supply a sturdy material, but as an emergency material, they are meant for only one or two uses; prolonged use may tear the material, exposing you to rain, snow or wind.
Photo: (cooking) Dennis Sitarevich, (folded blanket) Rick McCharles