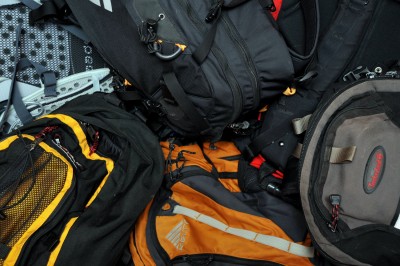 A friend of mine asked me the other day for some suggestions on a daypack, which got me thinking about them. Although I have two daypacks (EMS AquaDay and Black Diamond Covert) which I am fairly happy with at the moment, I am always considering getting a new one as well. Such is the case with a total gear hound like myself. Unfortunately, they are an often overlooked piece of gear and the amount of daypacks that are actually just over-designed "school bags" is becoming more and more prevalent. A trip to any non-outdoor sports store will reveal that the majority of their displayed packs, although made by companies like The North Face and Kelty, are aimed at students. Even some outdoor stores feature more book bags than true daypacks. What a bunch of malarkey!
I decided to put together a little guide to how I would evaluate picking one up, and using my friend's requirements as an example on how I would choose one.
For simplicity's sake, I'll break this down into: use mode, size, and profile.
Use Mode
Sounds simple enough right?
But, ask yourself:  "What will I be using this pack for and how often will I be using it?" Be honest.
We all hope that we'd be hitting the back country every weekend, but you may end up using the pack for other activities just as often as it's on your back in the woods. A few uses I've found myself using a daypack are things like mountain biking, carrying camera gear, hunting, a nigh up at a friend's cabin, or as a daypack while traveling. My friend, in particular, wants to also use his pack when riding on his motorcycle back and forth to work. Some other potential uses for a daypack could be: Rock climbing, winter mountaineering, ice climbing, skiing or snowboarding, carrying extra supplies for a child or pet, or while fishing.
Capacity and Size
We all know the saying is bigger is better. In many cases, it is.
But it doesn't always hold true.In the case of a daypack, you want a size that will fit your needs and have the capacity to carry what you'll need for the day and maybe a little bit more.
You may ask, "Well, what if I need to carry more? Isn't it better to have more room than not enough?"
Yes and no. If you need more room, you should be carrying a dedicated backpacking or overnight pack. 50 Liters of volume and up. If you only need a pack for a quick hike, hauling up a 65L pack that only has a rain shell, emergency kit, water, and snacks will feel like a soggy mess on your back. Your kit will be sloshing around in all that empty space, not to mention you're carrying some extra "empty weight" too. A pack that's 50L and larger has the necessary beefiness in materials, straps, and frame system for carrying bigger loads. If it's not loaded up, you're pretty much carrying it for no reason. So size yourself accordingly.
For example: The Osprey Talon 33 daypack weighs in at 2.0lbs even. The Osprey Aether 85 weighs over twice as much at 5lbs 4oz. It might not seem like much weight at all, and it isn't. But when you're carrying it around for no reason at all, it sure is. Not to mention having a big sack of fabric drooping off your back.
In my opinion, an honest day pack will accommodate a volume capacity of 20-35L. Somewhere between 30L and 35L is probably where you'll land as there is a wide spread of packs in that zone.
Profile
When it comes to profile, I don't just mean the look of the pack – but that does have a big part to play in it. Profile is the result of the aesthetics as well as features geared toward it's intended use mode.
A rock climbing pack will have different features than a book bag. Even a winter mountaineering pack will be different than a 3-season "summer" daypack.
For the examples I just used above, a rock climbing pack would be pretty low-profile and sleek. It would have almost zero loose hanging straps and pockets on the outside, everything will be locked up tight. This would be different than a standard daypack which might have plenty of buckles and pockets to attach and stash gear.  A  winter pack would be different than a summer pack too, in the sense that it would accomodate features like ice axe loops, ski attachment straps and an insulated bladder sleeve.
See where I'm going with this?
I hate to admit it, but some of the coolest looking packs are completely useless to me. Especially many ice climbing packs. I would love one by Arc'teryx or Mountain Hardwear on pure aesthetic appeal alone, but I know it just doesn't have the features and organization I want in a daypack. So don't fall into the trap of buying on looks alone.
Pick a category of bags that zero in on how you plan to use it, and then go for looks from there. 🙂
Narrowing Down
So now that we've got those 3 core principles on buying a pack, let's take a look at my friend's case:
"I'm looking for a day pack that I can use for normal day hikes we do, but also use it when I'm on the motorcycle. It doesn't have to have a high capacity because I have a 50L overnight pack for that. I need something that has decent storage for a few pieces of clothing, liquids, and possibly some extra gear. Price isn't really a concern but I'd like to keep it under $150."  – Anonymous Friend
I love when a friend gives me a task like this. It's like letting loose a hound on a scent trail. However, a 27-year old man barking does draw the attention.
Given these parameters, I'd immediately first go online to a website like Moosejaw and browse to just look at daypacks.
There are a few brands that I personally favor, just from the quality of gear I see them put out and because I own certain pieces of their gear myself. I usually filter out down to those too. In this case, the brands I really dig right now are Arc'teryx, Black Diamond, Osprey, and Deuter.  So out with the rest of the riff raff (the rest aren't riff raff, don't worry)
Also, make sure to visually filter out Men's vs Women's bags. Using the site's filter will sometimes rip out any bags that are not gender specific as well.
Brands and sex now settled, I'll usually sort by "Popularity", "Best-selling", or "Rating". Just so I can get a feel for what other people in my situation are buying. But don't always go by this either, as brand new items will rank very low this way.
Once I've checked out a few of the top rated or most purchased pieces, I'll re-sort for price. And start weighing my options there.
Using these methods, I've narrowed down some recommendations for my friend. These are low profile for motorcycle riding but still have several compartments for organization. The are lightweight, capacity around 30-35L, and hopefully around $100-$150.
Black Diamond Octane 28-30 – Uses BD's new ergoACTIV suspension, very adaptable for short hikes to longer ones. Ventilated back panel.
Osprey Kestrel 32 – Jack of all trades type pack, has an integrated rain cover in case he gets stuck in the rain on his bike
Osprey Hornet 32 – Lighter, lower profile, and more streamline than the Kestrel. Ventilated back panel.
Arcteryx Miura 20 – Takes lightweight to a whole new level, made of highly breathable nylon for aerobic activity and hiking.
Mountain Hardwear Fluid 32 – Excellent design and looks, low profile, with on the fly stability adjustment for shifty loads.
Those are my current picks. If I had to choose myself, I think I'd go for the Hornet 32, Fluid 32 or Miura 20, mainly on looks. I do love Osprey's though, and own a Atmos 65 myself, but it would be nice to have a change.
So there it is. If you're in the market for a new daypack try applying the 3 principles I outlined above and have fun with it. It's your pack and your money, in the end. Find the one you love the most. And let me know if you found this useful or if I missed something!
Check out this article and similar articles and gear reviews at the Stormcrow Group's main site here.