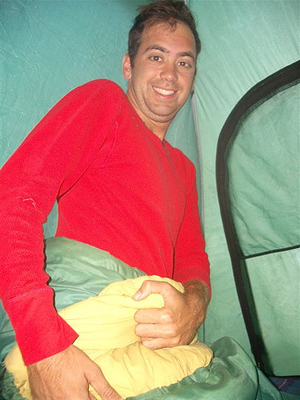 Winter weather can be a bit unpredictable. While you can generally count on it being cold, you can't always know how much snow will fall or whether an unusually warm and sunny day will melt snow until it starts raining from tree branches above your campsite. For a casual winter camping experience with family or friends, you want to be prepared, but not overpacked. These are just a few suggestions on the things you should pack and wear for your winter camping trip.
First and foremost, think layers. Layers, layers, layers. I can't stress that enough based on the chance that you will have many periods where you go from lots of busy and strenuous activity, to sitting calmly (or sleeping). You'll definitely want the comfort of being able to adjust your insulation as your internal heat rises or falls.
Pack enough pairs of fresh underwear. That typically means one pair for each day you'll be camping plus 2 extra pairs, just in case. In the likely case that you won't be showering during this time, you'll at least want some fresh tighty-whities.
Extra socks. And once you've packed extra socks, pack more extra socks. If you're going to overpack one thing, have it be socks. Nothing is worse than cold, wet feet and recycling the same dirty socks on your feet will not keep them warm. As your socks get dirty because of sweat, they lose their insulating power. And you want extra socks in case your shoes become wet via external sources beyond your control (snow in the shoe, puddles, frost overnight).
Wear a base-layer. A base-layer is just the first layer of clothing you put underneath your typical clothing. Base-layers are not meant to be stand-alone shirts, though you may wear a base-layer as one. Many sports stores sell base-layers that are described as cold-gear, just meaning they have the technology in the long-sleeve shirt or long-underwear to wick away moisture. They also usually double up on tightly-woven material. Personally, I wear a Smartwool or Merino wool base-layer. It's one of the warmest base-layers out there, made of completely natural material and it doesn't itch like most wool.
Warms pants and shirts over your base-layer. Jeans or some thicker pants are just fine for winter. You can wear a normal long-sleeved shirt over your base-layer as well, preferably something that isn't a v-neck or made of very thin material. If one shirt isn't enough, wear a light, loose zip-up sweater, although no extra pants should be necessary.
Snow pants and a warm jacket make up the last outer layer. You'll find yourself bending, kneeling and sitting in the snow or crawling through tight spots, so good snow pants are a necessity. Take a jacket you can maneuver around in easily. Make sure it's one that doesn't overheat but responds well to your body temperature. A somewhat sporty jacket with lots of pockets, a hood and a tail that covers your rump is good. One that is wind and waterproof is ideal.
Boots. You want boots that are bona fide winter boots. Insulated and warm, tall (above the ankle at least) and waterproof. Preferably sturdy and thick, but not heavy. One specific thing to remember about your boots during winter camping is keep them inside your shelter and not exposed to the elements overnight. Leaving them just outside your tent even underneath the rain fly is not enough. You will find them frozen inside and out in the morning.
Necessary accessories. Wrap your neck with a lengthy, thick woolen scarf. You'll find the longer ones may be better if your hat is insufficient and you need more coverage. When it comes to gloves, pack the thickest, multiple layer gloves that are still practical and easy use. Having a grip material on the palm is good. Make sure that if they are lined with plastic on the outside that you don't hold them near the fire too long. For a hat, wear one that you would wear skiing or snowboarding. Pack an additional set of earmuffs if you feel one hat won't be enough.
Optional accessories. Balaclava. It will come in handy if you'll be spending many days outside and want to prevent wind and sun damage to your face. Hand-warmers. For those with very cold limbs, there are little hand-warmer packets that may come in handy. They are made of nontoxic materials that heat up when exposed to air. Goggles. While goggles are not necessary, at least sunglasses are so that you do not develop photokeratitis, known as snow blindness. Chapstick and sunblock. Chapstick is much more readily available and easy to obtain and carry. Sunblock for your face is encouraged as well especially if you'll be in a well-lit area all day. Lotion also works well as an insulator.
Out in the wild it's not about being stylish like it is on the street. Cover all skin exposed to the cold (with the exception of your face unless you're in extreme cold). Try not to overpack so that you don't end up carrying all that extra dead weight, but pack just enough. Then stop worrying about your attire and enjoy your winter wonderland!
Photo: (two people) ReUse Photo, (mid-layer) Lululemon Athletica, (balaclava) Matt Adams