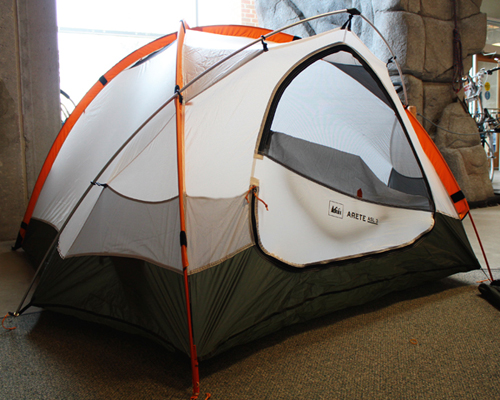 Most campers own a three-season tent. Most campers also don't go winter camping. If you're thinking about taking a frosty trek, consider carrying along a quality tent made to withstand the harsh environment of winter. Ken Wilson, a sales associate at REI with experience winter camping, helped me put together a guide highlighting the differences in multiple tents available for winter camping.
Three-season tents are usually made with lots of ventilation, which is achieved by the use of lots of mesh in the top half of the tent. Depending on the size of the tent (whether it's made for 1, 2, 3 or 4+ people), there will typically only be two light poles required to stand the structure. Stakes and a rain-fly are also standard.
Then the next tent types beyond three-season tents are three- to four-season tents otherwise known as "all-season tents" and beyond that there are mountaineering tents, the heaviest of the heavy duty, made for withstanding fierce winds and snow when mountain-climbing. These may be too much for someone just looking to spend some time outdoors in the winter, considering mountaineering tents are usually heavier and much more expensive. They range in weight from 5 to 13 lbs. and can cost on average between $400 to $750.
Wilson walked me through the design of an all-season tent manufactured by REI, the REI Arete 3 ASL, three-person tent, all-season and light. This kind of tent is made for the kind of mild winters Michigan can see. While those living in Michigan can agree that our winters are not that light, they do compare in intensity to winters of Alaska or the Yukon, or to the wintry environment at high altitudes.
How winter tents are different:
There are sleeves for the poles instead of simple clips. This ensures a sturdy structure and you don't have to worry about your poles slipping out of the clips in high winds.
Poles are heavier and thicker to support the tent against any snow that may accumulate on your tent and so that they will not snap in high winds. Also, there are usually more poles in your tent kit to keep the desired shape of the tent intact at all times.
While there is a much greater lack of mesh in winter vs. three-season tents, wherever mesh is present for ventilation purposes, it is reinforced with a nylon backing that can be zipped right over the mesh.
The walls of the tent are thicker and usually made of a urethane-coated nylon instead of the typical silicone-impregnated nylon found in three-season tents.
All-season tents have a dome shape with steep side walls designed to not accumulate snow. You will not find a flat top on an all-season tent. While shape designs vary, they all achieve the same purpose of guiding snow right off your tent.
The rain-fly attaches in more positions on the all-season tent and usually has its own pole to put on the inside so that it leaves ample air-flow in the tent it covers. The rain-fly reaches all the way to the ground, giving the tent underneath full coverage. Oftentimes there will be Velcro present to attach the rain-fly to the tent so that it won't flap in the wind and disturb sleeping campers inside. Also, a rain-fly may extend beyond the tent walls to provide a "patio roof" that extends beyond the entrance of offer up a place where snow won't accumulate.
One big problem faced by winter campers is condensation that forms on their tent. Therefore in most winter tents, you will find a tiny window at the top of the tent made of mesh. Usually there will also be mesh located on the door of the entrance. When the nylon backing of the mesh is unzipped, the air flows through and the chimney effect allows the minimization of condensation.
While the interiors are still designed to fit the typical 1, 2, 3+ people, most winter tents offer up a little bit more space in each tent for all the extra gear winter campers tend to carry. Simply put, winter tents have a larger vestibule to protect your gear from the elements inside.
Keep in mind, the design and features offered will depend on the brand you purchase your tent from and how much you're willing to spend on it. The winter tents that REI carries in their store range in price from roughly $300 to $500.  The average weight of a winter tent that you're looking at will be 5 to 8 lbs, which is more than three-season considering the heaviness and thickness of the reinforced poles and tent material.
For the camper or backpacker who is looking for something specific beyond the traditional backpacking tent design, Wilson also mentioned pyramid tents. They are a strange type of winter tent, as they are typically floorless – there is no material providing the base layer beneath you. Winter campers tend to track a lot of snow in to their tents, but the advantage of pyramid tent is that it doesn't get dirty inside and it sheds snow and wind just a well as a winter tent. Wilson suggested this kind of tent for a group of campers who already have tents for every person, the pyramid tent could be used as a kitchen area. If you are looking to sleep there though, a tarp or a sleeping pad will suit your needs just fine.
Just determine what you will mostly use the tent for the duration of its life for. How much are you willing to spend? Will you carry the tent often and for long distances? That will determine how heavy of a tent you can go for. How many people do you anticipate will use it most often? Is this just for you or for your whole family? Take all this into consideration when purchasing your winter tent and you'll be well on your way to enjoying the peaceful coolness of a snowy landscape.
Photo: (pyramid tent) Michael Meiser, all others by author