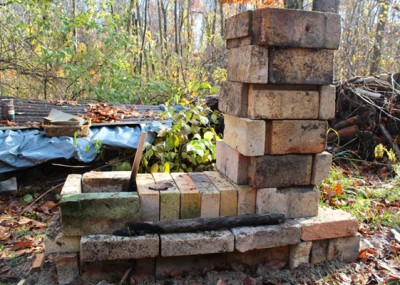 What the heck is a rocket stove? Well, it's essentially a hand-made stove of nothing but well-placed bricks*, no other tools or materials necessary, perhaps just some clay to patch up a few holes. You can cook on it when in the outdoors or build one in your garage or cabin for a low-resource, high-efficiency heating source.
In the following two videos Deanne Bednar, coordinator of the Strawbale Studio in Oxford, Michigan explains in-depth exactly what a rocket stove is and how it works. In the second video, learn how to make one of your own in a location of your choosing.
What is a Rocket Stove?
Now watch this video to see how it's all done from top to bottom. This is just a tutorial on how to build the combustion chamber which can be used alone to cook on, or as a simple heating device. Once the combustion chamber is built, you can expand on the concept and build it into an entire bench  like in the first video or other rocket-mass-heater.
Tutorial
There are many other variations on design available for rocket stoves. You can also build one out of different materials such as tin cans shown in the photograph below.
Visit the Strawbale Studio webpage at StrawbaleStudio.org.
*The design can be altered to build a rocket stove out of a different material such as tin cans or other easily attainable material.
All photos and videos by author