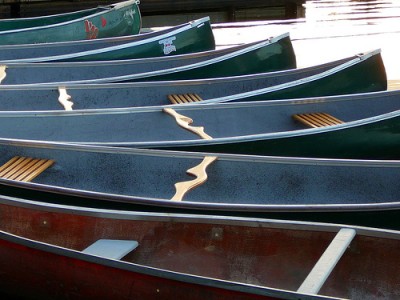 I cringe when I see newbie kayakers paddling like mad, torqued shoulders, frozen stiff torsos, jellyfish arms…free forming to disaster.  One minute of eyeballing them from the shoreline and I can tell who had kayak lessons and who is headed into physical therapy or a spendy sports medicine specialist by the end of the sweet summer season. Worse yet is when I hear someone say from their newly purchased colorful rec kayak, "Nope, I haven't taken a class…I don't plan on tipping over."
Weekend warriors, some call 'em…soon to be wounded water warriors.
Don't get me wrong, I am not a kayak snob. And I know that feeling kinda stiff or a little bit of burn is a good thing after a workout.  But hey, if your muscles and joints are screaming mad on Monday morning after your well-intentioned paddling weekend with friends when you should be feeling energized and real good about yourself, then you might be doing something wrong. Really wrong, in some cases.
Not sure what to do about it? Paddlers in pain, pay attention.
As kayak instructors, we're certain that many agonizing paddling injuries can be prevented.  Nasty injuries such as shoulder impingement, bursitis, tendonitis–they may all be the consequences of improper paddling techniques.  Right on ergonomics will save on both your bod and improve your kayaking performance.  We well-seasoned yakkers really don't want you to have a bummer of an experience paddling.  Too many folks do when they've never had lessons.
Then there's the kayak neglect syndrome.  That new plastic composite kayak from Gander Mountain sits in straps, perched in paddling purgatory, collecting dust in your overstuffed garage with you squeamishly eyeballing it every morning before work, feeling guilt in your guts for dropping another thousand bucks on something you thought you'd really enjoy.  You didn't intend on creating more health issues and injuries. Instead you wanted to be immersed in nature, be one with the water element, plus get fit and lose a little weight while you were at it…right?

If this describes you, my water-winged friend, don't feel demoralized, simply poise your paddle and listen up…
Here are a dozen dexterous recreational kayak paddling tips from Wild Earth Eco Tours to help you gracefully glide with power and ease on the shiny, sparkly water element. Read carefully, let these terrific tips sink in, practice air paddling in your backyard or basement, ten minutes here or there, then head to the lake or river any chance you get.  More of a visual, tactile, kinesthetic learner?  Sick of looking at smiling experts in those 3-minute tutorial YouTube videos online?
Then get out on the water for a lesson or two. Don't be shy!
Remember, the best way to improve all your kayak skills is by taking instructional kayak lessons or clinics.  Beginner, intermediate, and advanced sessons should all be available through full service paddlesports schools and companies, like Wild Earth Eco Tours. With each class, you will notice your kayaking expertise improving by leaps and bounds!
A Dozen Paddling Tips
Stretch before you paddle.  Yoga, Tai Chi, stretches or take one of our Kayak Stretching or Fitness Kayaking classes.
Use a proper paddle, the best one for you.  Learn about this in a kayak clinic or from credible retailers (see our Paddle Pointers article).
Feather or offset your paddle blades.  Beginners may want to begin with blades positioned straight or square, but eventually you will want to paddle with blades offset or feathered, for maximum efficiency in wind and waves.  Many rec paddlers prefer a 60-65% angle.
Grip lightly…no white knuckle death grip!  Relaxed hands folks.
Position hands properly on the paddle and use good form. Wrist should be in line with forearm, hands about shoulder width apart on paddle shaft, arms at a 90 degree angle.
No jelly fish elbows!  The bottoms of your elbows should be straight most of the time while paddling.  Your arms and paddle shaft form a moving 'box' formation.
Power comes from a flowing rotation stroke with strength.  Not paddlng motions that are arcing you off centerline.  That will only push your kayak to each side and it will slow you down.  No erratic lunging either!
In near the toes, out near the hips.  When paddling properly, paddles blades are dipped into water around your toes–imagine where they are.
Pull-out will generally be around your hips.
First part of stroke is where the motor power is.  Meaning, most of your power is in the front 18 inches of your paddle stroke.  Use that!  Less action happens from knee to hip.
Ripple, not a splash.  You should be paddling so that your blade is rather quiet in the water…just a ripple, not wildly splashing as you stroke.
Use your torso. It is the engine connecting to your paddle–not the short muscles in your upper arms.  Short, furious strokes or jelly fish arms will both wear you out.
Work your entire body. In proper paddling, you'll use your torso, back, thighs, legs, even feet…not just your arms.  Think leg strokes and torso twists, folks!
At Wild Earth Eco Tours we're patient, supportive, approachable and definitely passionate about kayaking Planet Water.  Consider taking a kayak instructional class with us.  Start out with the basics, then progress to a capsize and recovery safety clinic.  We offer Kids Kayak Youth Camps, special Women's Wednesdays kayak sessions, co-ed, private and group instruction.  Bring your own kayak, or we'll provide watercraft with gear.
Ok…so now you're a weekend water warrior with your kayak. Just be sure you poise your paddle, putting these pointers into practice!
Paddle on!
Check out Wild Earth Eco Tours online at www.wildearthecotours.weebly.com.