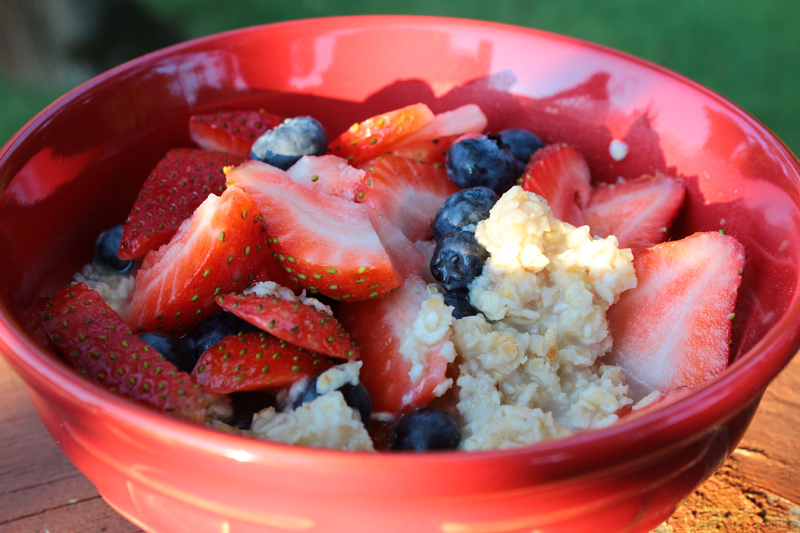 As one of the simplest and quickest breakfast meals, oatmeal lends itself well to accompany you out in the field or on a leg of a hike in the morning. Here are a few variations and tips when in the store purchasing your supplies and how to make breakfast a sure-fire hit.
When in the store, look for instant oatmeal, but the plain kind in a big box or bag so that you can portion it yourself and add ingredients of your own design. Although instant oatmeal isn't as healthy, it won't kill you and it'll sure save you a lot of preparation time and cleaning on your trek.
Boil water in a pan or metal cup over the fire, then pour the boiling water over the oatmeal in a separate container to keep your pan clean. Perhaps your container is disposable and will be of no trouble, otherwise your container is likely smaller and much easier to clean than your water pot.
Try any of these ingredients in your bowl of oatmeal:
The simple route. Simply slice up some banana chunks in there. Carry a spice bottle of cinnamon with you and sprinkle a little bit on top. Just a small amount of cinnamon daily helps to control blood sugar levels in people with Type 2 diabetes and lowers your cholesterol.
Autumn time. Again with sprinkle of cinnamon, cut up apples with the skins on into small bite size chunks for an autumn themed meal.
Autumn time #2. Cut up persimmon (kaki), a sweet fruit that tastes slightly like pumpkin. Drop in some pumpkin seeds or sunflower seeds.
Sweet and crunchy. To override the sogginess of oatmeal, add granola. To sweeten it up, add coconut shavings and dried pineapple as well.
Fruit medley. With a regular sized box of fresh blueberries, strawberries or raspberries you can eat a few pieces of fruit as an appetizer, then throw all the rest in the mix. Remove the leaves and hard core of the strawberries then just cut in half or quarters and stir those and the blueberries into the oatmeal. Try any fruit really, cut up apricots, plums, bananas, peaches, pears.
Peanut butter and Chocolate. If you're hiking, you're likely already carrying bread and peanut butter. Look for some Nutella® or any other hazelnut/chocolate spread and take two spoonfuls of each to stir into your hot oatmeal. It's more like dessert than breakfast.