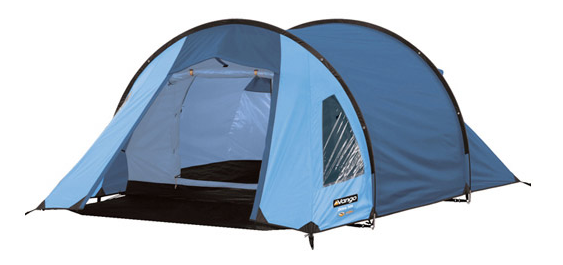 Camping is a great way to enjoy the outdoors, have fun and is a relatively inexpensive way to spend some quality time getting back to nature with friends and family. Taking a trip out and camping is lots of fun and a great opportunity to escape from the banality of everyday life. If you are not a seasoned camper, then this guide should give you an idea of what is required to ensure your trip goes without a hitch!
The first thing to address is your tent, where you will sleep and shelter. This is possibly one of the most important purchases, but it needn't be an expensive one as you can pick up a decent weather proof tent if you look in the right place. It is always best to look at what you intend to use your tent for, bearing in mind the climate that you will be camping in, whether you will be camping in the UK or overseas, the number of people you are camping with and so on. Personally, I always look to buy a slightly larger tent (for example, a 3 man tent for 2 people to camp in) as it allows a little bit of breathing space, some tents can be a little unforgiving and you want to make your camping experience as comfortable as possible, especially if it is your first time!
This Vango Tent, (Vango Apollo 500) is an absolute bargain, providing shelter for up to 5 people and boasting a porch to boot. The second door and 2 windows help create a light and airy living space. Coming in at just £97.49, this is a sound investment for anyone looking to take up camping. The tent is easy to pitch and has colour co-ordinated poles for ease and efficiency. All in all, a great starter tent that will last well and provide you with a great base for future camping trips.
If there are only two of you embarking on the camping adventure, you may wish to look for a smaller tent, as it is always best to travel as light as possible. My recommendation comes in the form of the Vango Zetes 300 Tent. Again, this tent is attractive and easily assembled, with ample living and sleeping space. Coming in at just £49.99, it's a great choice for a couple or pair of friends who are new to camping.
Next, you must think about your sleeping arrangements. You need to think about a sleeping bag and make the decision as to whether you want to use a camping mat or pad, or invest in an inflatable mattress. It is all a matter of personal taste. So, first, we will look at the essential – the sleeping bag.
Snugpak Sleeping Bags are a great investment and range in price from £25.99 to £152.99, depending on what your camping needs are. I think that a good starter bag is the Snugpak Navigator which is amazing value for money at just £26.99. It is an ideal introduction to the Snugpak range and these chunky, warm and comfortable bags are made to the same exacting standards as the rest of the range. The cotton linings throughout the range will appeal to the traditionalist and the Navigator can even be opened to make a square quilt.
Next to decide on, camping mat or inflatable mattress…which will you go for? Camping mats can be picked up for a mere few quid, such as this foam camping mat which retails at just £5.99, whilst it is basic, it does exactly as it should, providing a barrier from the cold and uncomfortable sensation of lying on the groundsheet. If you require a little more comfort, you could go a little more professional with a trusted name, the Vango Ultralite Self-Inflating Mat comes highly recommended and is built to withstand alpine conditions, giving you good warmth, comfort and protection. Next to consider is an inflatable mattress. Again, the choice is vast and there is something to suit every pocket. The Vango Flock Airbed is a smart priced item, coming in at £10.99 for the single or £19.99 for a double. Another idea to explore is an old-school camping bed. This Vango 4 Leg Camp Bed is cheap and cheerful at just £15.99 and provides a comfortable, easily portable way to sleep in the great outdoors.
An easy mistake to make is to forget your pillow! Speaking from experience, this will make your camping experience that bit less comfortable, so take a look at the vast choice of pillows on offer. You may wish to take a travel pillow, inflatable pillow or just pack a pillow from home. My favourite is definitely the Snugpak Snuggy Pillow, an excellent buy at just £5.99, it provides high quality insulation and packs away into its own integral stuff sack.
The next things to think about are your cooking and eating equipment. One of the great things about camping is enjoying a meal together that you have cooked on your camping stove. Now, it won't be fine-dining, but it is great fun and all you need are a few basics. The Highlander Portable Cooker is a great choice, retailing at £11.99. The handy single burner has a built in Piezo ignition, a slimline design and packs away into a plastic shell briefcase. A Cool Bag or Cool Box is a must, to keep your food fresh. Something like the Outwell Cooltime Medium is a trendy soft cool bag with a 20 Litre capacity. The bag is 100% polyester with a PVC lining, making it perfect for a weekend away. A quick browse around some Cookware sections will assist you in choosing pans, plates, utensils for your specific needs.
Finally, a major essential is a good torch! There are many situations where the torch will be your best friend and it is a piece of kit that you really cannot be without. The decision is yours as to whether you will go for a hand torch or head torch. My pick of the bunch is a Cybalite Elite Torch, which retails at £16.99 and has 3 high intensity LED's and an ultra-bright Xenon bulb.
Happy Camping!