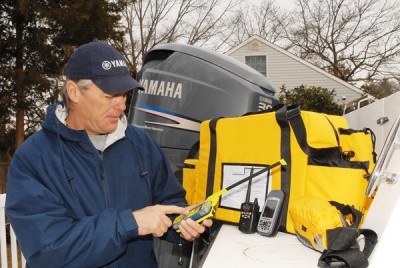 Boating safety takes many forms. For example, the U.S. Coast Guard® recommends everyone aboard a recreational boat wear a personal flotation device at all times. The introduction of compact PFDs has been beneficial in increasing this safety practice among America's boating public. Another example is the kill switch lanyard worn by the boat operator that turns off the engine(s) should something happen that forces him/her away from the helm. These are passive safety devices that can save lives, but is your boat prepared for an emergency that requires you to abandon your craft and enter the water?
Professional mariners know that the right emergency equipment can help them avoid getting lost at sea, and increase their chances of a rescue and ultimate survival. These experienced boaters keep that all-important gear in an "abandon ship" or "ditch" bag as it is more commonly known. It's a practice that is catching on with recreational boaters. Having this equipment organized and at your fingertips can save critical time should an emergency situation arise.
A ditch bag is just a fancy name for a specialized duffle bag designed specifically for emergency purposes. It floats when full so the critically important contents will not be lost if it is dropped overboard during an evacuation. It is water resistant with sealed pouches for some of the emergency items that need to be kept dry. It comes in highly visible colors, either bright yellow or international orange, and has reflector strips to aid rescuers both at night and during daylight hours. The ditch bag you select must be large enough to hold the emergency equipment needed for your boat and for the environment in which you operate your boat, and should be equipped with a carry strap and lanyard so it's easy to carry and can be attached to you or a life raft even in rough water.
Stocking a ditch bag with the necessary gear is a function of the size of your boat, where and how you use it, and what other emergency equipment you have on board like a lift raft or Category 1 automatically deploying EPRIB. If you run your boat offshore, your emergency equipment needs are greater than if you operate your boat on inland waterways. If your boat is available for hire, the emergency gear required is regulated by the U.S. Coast Guard® and falls into another category altogether.
A typical ditch bag for a recreational boat should include an emergency locator beacon. A registered Category 2 EPIRB is strongly recommended for boats venturing offshore that are not equipped with a Category 1 (automatically deploying) EPIRB. A Personal Locator Beacon (PLB) is suggested for ditch bags aboard boats that have a Category 1 EPIRB or that operate very near shore or on inland waterways that carry no EPIRB. A PLB is an excellent device for even the smallest recreational boat or for individuals to carry on larger boats. Additional equipment includes a waterproof, handheld VHF radio with extra batteries; a selection of emergency flares and smoke signals; a strobe light or combination strobe/flashlight for added visibility at night; a whistle or other audible signaling device; and a signal mirror round out basic emergency gear.
Obviously, the further offshore you travel, the greater the chance of being stranded in a raft or PFD for a longer period of time awaiting rescue.
The best way to prepare your ditch bag contents is to think about where you boat and what might occur in an emergency scenario and stock it accordingly. Depending on your boat and operating criteria other ditch bag items might include water stored in individually sealed packets; emergency food rations; a first aid kit; an inexpensive solar still for making fresh water; a knife; a solar blanket for cold climates; simple fishing gear; and sunscreen.
No one likes to think that an emergency could take place while boating, and in the overall scheme of things emergencies that require abandoning a boat are a rare occurrence. However, if the unthinkable happens the only way you can assure survival and rescue for yourself and others aboard your boat is to prepare in advance – that's what a ditch bag is all about. The ditch bag, once the domain of high seas mariners, is an idea whose time has come for recreational boaters. They are readily available at marine stores, reasonably priced and easy to stock with exactly what you need for your boat and boating forays.