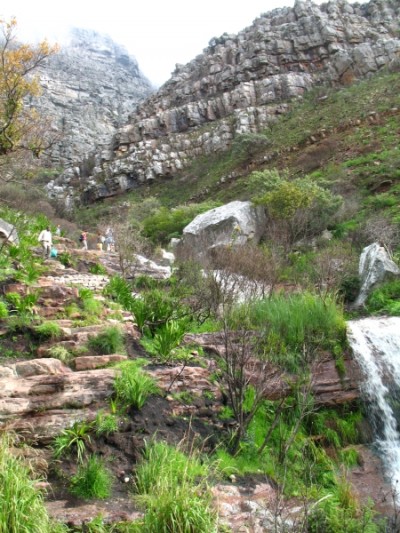 As the owner of a hunting pack company for six years, I was always shocked by how the design and technology in camo backpacks and clothing was so far behind that found in the non-hunting soft good market. Hunting companies have recently begun to take a few pages from the more tech-conscious outdoor sectors, and here are a few brands that have led the way in mountain hiking pack design.
Daypacks
Mountain hiking requires different preparation than hiking at sea level. Temperatures can change faster, and nasty weather can roll in without warning, so even on warm days, a rain jacket and some kind of vest or fleece top are a must. The mountains dehydrate you faster, so you'll carry more water than you would in, say, Indiana. Because of these requirements, you'll probably need a daypack for mountain hiking, whereas a similar hike at sea-level might require only a fanny pack.
Jansport Mazma — 1,755 cu. in.
This little pack is the real deal, when it comes to performance and value. Features include a compression molded back panel and ergonomic shoulder straps. There's also plenty of pockets to keep your small items organized, as well as straps and buckles for external storage of poles, tripods, or any other hardware you might need on your next adventure. At $130 the Mazma costs a little more than the average daypack of the same size, but the extra features and durability are worth the money. Find it here: http://bit.ly/jiro9t
Marmot Vertical — 1,400 cu. in.
The Vertical daypack puts a heckuva lot of technology on your back for only $75. It's got the same cool-looking fabric, zippers and buckles foun
d on other Marmot packs, and the same high quality you find throughout their products. Best of all, it's designed to perform as a hiking backpack, not just some school book bag you take on the trail because it's the only thing you have . . . http://bit.ly/k9kuM7
Mid-Size Packs
Sometimes even a short day hike will require a mid-size pack, if you have a lot of camera gear for example, or if it's very cold and your extra clothing is bulky. As far as hiking backpacks go, this is probably my favorite category, because the modern mid-size is light enough to take anywhere, even if you don't need all the space. And it's still possible to do multi-day trips using a 3,000 pack if you go ultralight. I know the PURIST ultralight, minimalist guys will scoff, as if I'm using all that extra space for my hairdryer or something . . .
Mountain Hardware Fluid 32
The Fluid 32 is offered in two sizes, large and regular, sized at 2,150 and 1,959 cu. in., respectively. The cost is $130, which is a great price point for a pack this size, especially considering all the features it has, such as side pockets made from a stretch-woven material, ventilated hip belt, and On-The-Fly compression, which allows users to adjust load stability while wearing the pack. Find it here: http://bit.ly/jr7iB7
Arcteryx Silo 40
Although this pack is designed for snow sports, with clips for carrying snowboards, skis and ice axes, at around 2,400 cu. in., it can be used year-round for almost any trip when a normal daypack is just too small. Available in black or orange, for $200. http://bit.ly/kb6sgN
Multi-Day Packs
For trips longer than two nights, unless I'm trying to be a real survivalist hero, I always carry a pack larger than 3,500 cu. in. When I attend the outdoor trade shows to see the latest gear, I'm always surprised by how lightweight hiking backpacks have become over the years, while being able to carry heavier and heavier loads. This is all due to some amazing advancements in materials, design and manufacturing techniques. For example, several companies use a process called "seam welding" to join panels of fabric which creates a strong connection, without any stitching required.
Osprey Aether 70 — 4,000-4,600 cu. in.
I've been a big fan of Osprey every since I bought one of their packs in 1995. Their gear is simple, easy to use and extremely lightweight but strong. They were the first company to take seriously the idea that backpacks could be custom fit for individuals. In addition to offering most packs in small, medium, large and extra large, Osprey dealers are provided with special ovens that heat hip belts so they can be molded to your unique body shape. The Aether 70 has external attachment points for tools and sleeping pads, but they're hidden behind the zipper fly, giving this pack a clean appearance. It's offered in three colors for around $260. http://bit.ly/kHteU6
Mystery Ranch G5000
After the Dana Design brand was sold to K2 some years ago, the Missoula, Montana outfit created Mystery Ranch and once again raised the bar for quality and innovation within the outdoor industry. The G5000 pack is a Dana-inspired design that will hold enough gear to keep you in the wild for as long as you need to be there — and it's not even the biggest pack in the Mystery Ranch line. Available in forest green or red, for: $475 http://bit.ly/mmVErK
By Mike O'Reilly