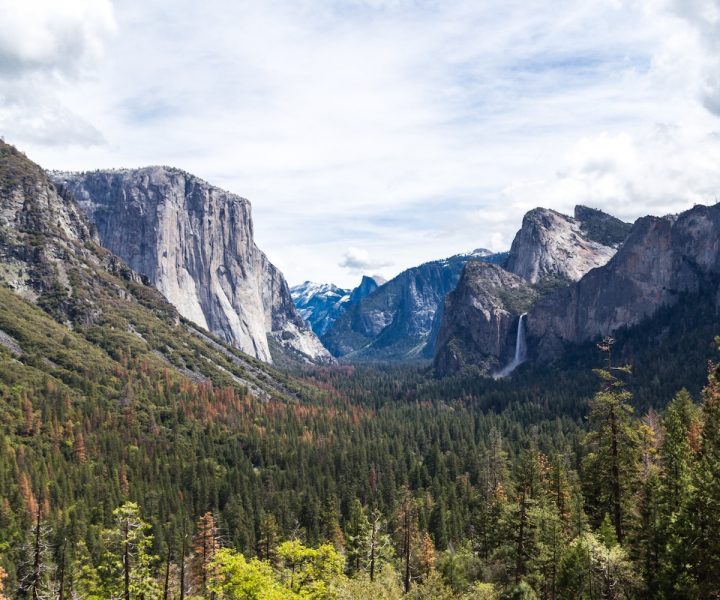 If you're planning a trip to Yosemite National Park, then you're probably hoping to enjoy views of Yosemite Falls, Sentinel Rock, and Half Dome. Luckily, you can get views of all that and more on Cook's Meadow Loop.
If you're new to hiking and worried about the difficulty, don't be. This one is perfect for beginners; it's a short, easy walk through large open meadows and there's practically no vertical gain or loss.  
Cook's Meadow Loop
Location: Yosemite National Park, Yosemite Valley 
Length: 1-mile loop 
Elevation gain: Practically none 
This flat, easy hike takes about an hour or two to complete, depending on how frequently you stop to enjoy the scenery. We wouldn't be surprised if you stopped several times, as the trail offers stunning views of some of the most famous sights Yosemite National Park has to offer, including Sentinel Rock, Half Dome, Yosemite Falls, Royal Arches, and Glacier Point.  
You start the hike at Yosemite Valley Visitor Center, where bathrooms and drinking fountains are located. You can hike west from the visitor center toward Lower Yosemite Fall, or you can choose to walk the loop in reverse. If you decide to go clockwise, you can pick up a self-guiding brochure at the visitor center.   
You can also visit the Lower Yosemite Falls, as the loop passes the trailhead to the falls, which would mean extending your walk by half a mile. Hiking time can range from 15 minutes to an hour, but it's an easy hike to complete. 
Cook's Meadow Loop is family-friendly and allows strollers, bicycles, as well as leashed pets on the paved portions of the trail. It's open year-round, but the best time to visit is in spring or early summer, as that's when Yosemite Falls is roaring, and you'll get to enjoy the blooming wildflowers and the meadows at their greenest.  
The trail is wheelchair accessible, although in the winter the path can become snow-covered or icy, which could prevent access, so be sure to check conditions to avoid disappointment.  
For more information on Cook's Meadow Loop, visit the National Park Service website or check out this virtual tour to get a better idea of what to expect.