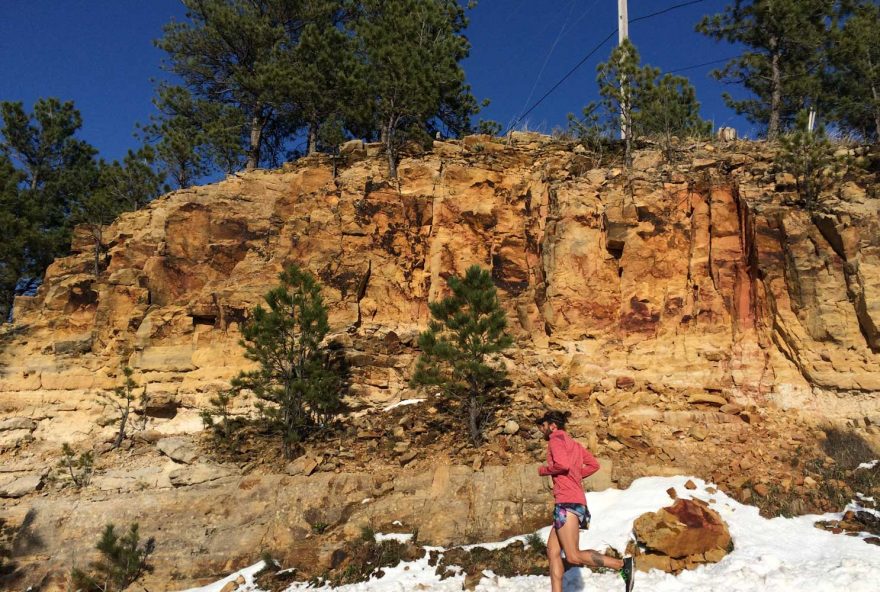 Ask any runner that has traded in the road for the trail; they can't see themselves looking back. When you start trail running, you trade in the hustle and bustle of the city for the sounds and sights of nature, and there's no beating that.
Trail running doesn't require that much gear, but before heading out, there are some essential pieces of equipment that you'll need. Grab a pen and take note of the requisite gear you'll need for trail running.
Clothing
One of the most essential components of trail running is your clothing. Your clothes should be tight-fitting without being restrictive, and free of any tags or other nuisances that will increasingly bother you every step of the way. Choose quality socks made out of moisture-wicking material, tights or shorts, and a shirt made out of breathable fabric, such as merino wool.
Another vital piece of clothing is a decent waterproof jacket. When buying a jacket, look for fit, breathability, weight, and its waterproof ability. The market leader when it comes to waterproof fabrics has been Gore-Tex, but other competitors are starting to emerge, such as OutDry technology.
Your trail running shoes are probably going to be the most expensive bit of gear, but they're worth the investment. They seem like road running sneakers, but the lugs on the soles are deeper, which will give you the grip you require.
Water bottle or hydration belt
We're pretty sure that by now you know how important hydration is whenever you're exercising. Trail runners have two options for carrying around water: a handheld water bottle or a hydration belt.
A handheld water bottle is one of your most compact and lightweight options, and they're great when you have access to refill them. Specialized water bottles have a strap system that keeps the bottle safe in your hand, so there's no need to grip the bottle the whole time. The zippered pocket can hold a few small items, such as energy gel, a credit card, and a smartphone.
The problem some trail runners have with a water bottle is feeling unbalanced. This can be solved by running with a bottle on each hand, though this may make your arms tired. The only way to know if this will bother you is to try it out, as some trail runners have no problems using a water bottle.
The other option that you have is a hydration belt or waist pack. Generally, they offer more storage than water bottles, which makes them an excellent choice for when you are going for a more extended run or somewhere refilling is impossible. Most waist packs have either a single bottle, and some have several small containers so you can drink different fluids during your run, such as an electrolyte drink and water.
One significant advantage that hydration belts have over water bottles is that the strap will keep your hands free, which helps catch a fall if you trip, or if you need your hands to scramble along a section of the trail.
Backpack
You always need to carry a backpack on you, even on really short trail runs. It's vital that you bring a few essentials with you, such as food, gels, a spare layer, as well as your GPS or map and compass. This will become even more important when you start running for more extended periods of time, or on more isolated routes.
When you pick a backpack, make sure that you choose something that is big enough to carry your essentials (but not much bigger than that), and it should be comfortable and lightweight.
There's no need to buy a massive backpack with loads of additional features, as these turn into extra weight. However, some features like space for your water bladder or water bottle or a waist pocket will come in handy, as they are useful for storing your essentials and food.
Headlamp
It's always a good idea to pack a light, such as a small headlamp, no matter what time of day you're heading out for your run. This is particularly important during shorter winter days or when you plan to finish close to nightfall, in case you end up running for longer than expected.
The couple of extra ounces are worth carrying, especially when you could be looking at an extra hour on your run if you have to struggle to see two steps ahead of you on a dark trail. If you're planning on running in the dark, a second handheld light source is a great way to look out for specific obstacles in the night, and add dimension to your running surface.
Sunglasses
A must-have item, particularly on bright and sunny days, are a pair of lightweight sunglasses. If you prefer to run in darker environments, a pair of photochromic lenses or clear glasses are recommended, as they will shift the tint in the dark, as well as protecting your eyes from any low lying tree branches.
Space blanket
Space blankets are useful when you or someone in your party gets injured while on the trail, or if you lose your way and need to spend the night in the forest. Space blankets can make all the difference between not getting enough rest or being uncomfortable through the night, or even getting hypothermia, which is potentially lethal. Anything can be dangerous if you don't have enough layers and the temperature is low, even a sprained ankle.
Consider packing a lightweight space blanket whenever you're heading somewhere with high-altitude, to the backcountry, or anywhere where the temperatures drop dangerously throughout the night and spending a few hours in just your trail gear could potentially be light threatening. It could end up saving your life.
Sunscreen
You need to protect yourself from the rays of the sun, particularly in the mountains or during hot summer days. Therefore, pack lip balm along with some sunscreen. We recommend a stick applicator that you can rub on yourself, instead of a lotion, which can be greasy. On particularly sunny days it can be a good idea to wear a hat with a wide brim that protects your face from the sun, along with a long sleeve shirt.
Anti-chafing balm
Your skin will take a beating in ways you never expected when you're out trail running for long periods of time, including chafing. To combat the chafing, which will be a product of hours of friction, pick up a lubricating product and rub it on your inner thighs and between your toes.
Map or compass and GPS
It's essential that you know where you're going, whether it's with a map and compass or using a GPS system. One of the most important things to do before heading out for your run is to plan your route, as it can be easy to lose your way.
Before you set off, read up on your chosen destination and route, including distance, terrain, and elevation gain. That way, you'll have an idea of how long you'll be running, and you can plan what essentials you need to pack.
As well as everything we've mentioned above, we also recommend packing some emergency cash somewhere in your bag, keeping your phone in a plastic bag or waterproof case, and taking some extra water and extra food.
Happy trail running!