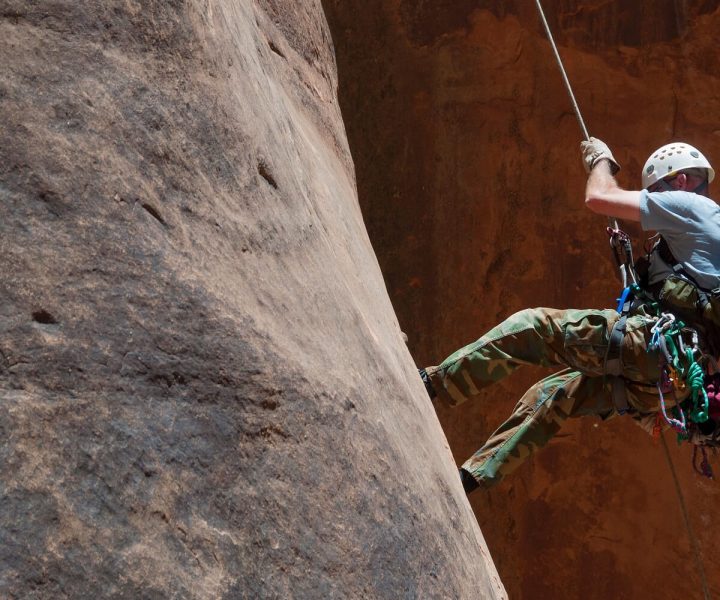 Rock climbing is a fun and social exercise, which is why it's no surprise that its gaining momentum. An untold number of both avid outdoor enthusiasts and city folk have taken up the sport, with climbing gyms opening up all across the country.
If you've been bitten by the climbing bug, we've got you covered. This list has all the gear every beginner rock climber needs to get started.
1. Helmet
There are two main reasons why a helmet is a vital piece of gear: hitting your head against the cliffside in the event of a fall and falling rock. Helmets are a necessary (and we believe, compulsory) piece of equipment for any rock climbers.
When looking for a helmet, take the following into consideration:
Your helmet should fit comfortably, and you also need to like how you look wearing it, so there's a higher chance that you will actually wear it while climbing.
Hard shell or traditional helmets, such as a suspension helmet, will take more abuse and last longer, but they are heavier and not as comfortable as the more light-weight foam-based styles.
Ensure that you are buying a certified helmet. Safe testing and certifications include the Union Internationale des Associations d'Alpinisme (UIAA) and European Committee for Standardization (CE)
Expect to pay anywhere from $50 to $75 for a decent helmet.
2. Harness
Along with your helmet, your harness should be amongst the first pieces of gear you purchase. There are loads of harnesses on the outdoors market, with a big difference in price range, so you should be able to find one to fit your budget. The most important part of a harness is the fit, and since all brands have different sizing, try on different brands so you can choose the one that fits the best.
Some harness buying tips are the following:
Beginner rock climbers should purchase a cheaper (though not low-quality!) harness until you learn the ropes and know your preferences a bit better.
If you want to rock climb during all seasons, look for a harness that has adjustable leg loops, as fixed leg loops harnesses are not as easily adjustable over bulky clothing.
3. Chalk
The purpose of chalk is drying out your hands, so they don't slip off the holds. All climbers are different; some use loads of chalk while others don't get sweaty hands. However, since you're just starting out, chalk should be part of your gear until you learn how your hands will react to different climates.
Some considerations when it comes to chalk:
There are loads of chalk brands, some which even promise a superior grip. Pay no mind to this for now, as any chalk type will do until you try a few out and pick your favorite.
Different climbing areas have chalk regulations which you must bear in mind. For example, in certain areas such as Arches National Park or Garden of the Gods, only red chalk is allowed.
4. Locking carabiner and belay device
A belay device attaches to your harness with a locking carabiner, and you use it to control the rope, including rappelling and belaying a climber. There are loads of styles and options, but they all serve the same purpose: keeping you in control and safe.
When looking for a locking carabiner and belay device, keep in mind:
Black Diamond ATC is a popular first choice amongst beginners, as its simple to use and affordable.
A locking carabiner is needed to attach your belay device, and as with all the gear, there are tons to choose from. Pick one that has a wide gate opening and a simple locking mechanism.
5. Shoes
To get a grip or jam your feet into cracks, look for a pair of shoes with a tight fit and a sticky rubber sole. Take your time and find a pair of shoes that fit snugly to gain a boost.
Some useful considerations when looking for shoes are:
There are various options, including tie, slip-on, and velcro closures. We recommend lace-ups or tie shoes for beginners, ensuring that they are tight-fitting, but not so much that they hurt or blister your feet.
Try on various pairs, as sizing varies between brands.
There's no need to purchase aggressive shoes, as they are manufactured for advanced routes.
These essential pieces of gear will give you a basic starting point to begin your rock climbing journey. There's a big world out there to explore which is begging to be climbed, so grab your gear and head on out!