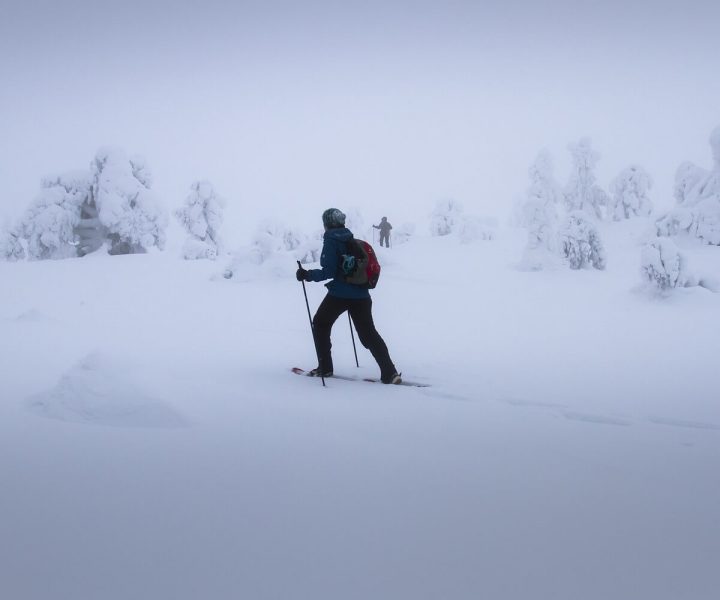 Snowshoeing is not as intimidating as you may believe. If you've ever hiked, and you've enjoyed it, you'll be able to snowshoe. Trillium Lake is a great place to start, as you will be surrounded by snow-covered evergreen trees, with impressive mountain views.
Trillium Lake basics
Difficulty: Beginner
Distance: 3.6 or 4.5 miles
Trail type: Out and back or loop
Elevation gain: 230 feet
Virtues of Trillium Lake
For cross-country skiers and snowshoers, Trillium Lake is one of the preferred areas. Your experience level doesn't matter, as this trail is suitable for everyone. You can find it just an hour outside of Portland, and since its right off the highway, it's a convenient location.
Just two miles from the trailhead, the view opens, and you can see Mount Hood, but you're always going to be surrounded by snow-layered evergreen trees. The trail is quiet and peaceful, something which amazes visitors as its so close to a highway. It's a perfect winter escape from the hustle and bustle of the city.
Directions, parking, and regulations
From Portland, take Highway 26 in the direction of Government camp to reach Trillium Lake. You will find it situated across the road from the Snow Bunny Lodge. There is a lot available for parking, just be careful not to trample any cross-country ski tracks while taking the wide road. You will require a Sno-Park pass to park your car.
The best time to go is December through March, and the trailhead is easy to find, located just off the parking area. You'll find the loop junction after about half a mile on the trail, but we recommend continuing on the path for at least two more miles to encounter the magnificent view of Mount Hood.
You'll have the option of an 8-mile loop which will give you breathtaking views of the area, as well as a different viewpoint of Mount Hood.