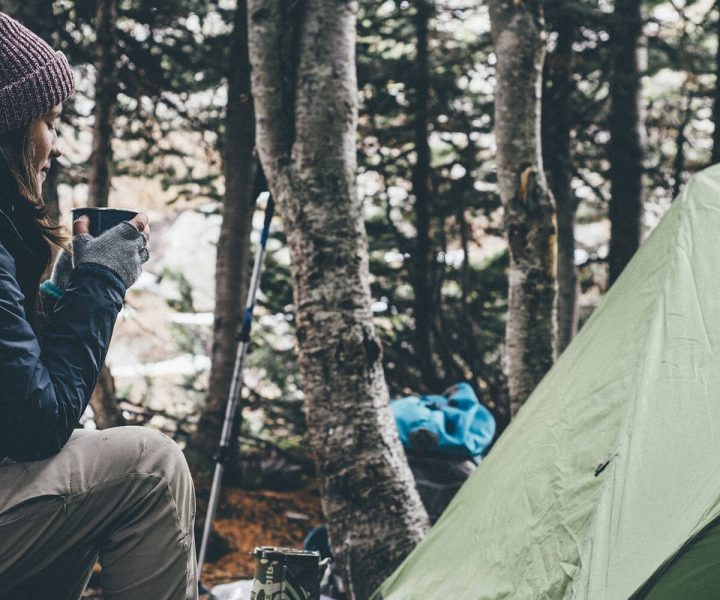 When you're out camping, being in a downpour for a few hours can easily turn into a more serious situation, like soaked clothes, ruined gadgets, or even hypothermia.
However, you shouldn't let a little water spoil your next outdoor adventure; you just have to prepare with the right know-how and pack the proper gear. You might not believe us, but camping in the rain can actually be loads of fun, or at least turn into a memorable experience you can share with your friends.
Even if the forecast calls for clear skies, rain is a common occurrence, and a shower can pop up anytime. So, equip yourself on how to handle wet conditions with these tips and don't get caught off guard!
Study the weather forecast
The most straightforward piece of advice we can give you is to thoroughly check the weather forecast in the days leading up to your trip. There are a few weather apps that will make it easier for you to plan for any inclement weather. If there are any issued warnings for dangerous or extreme weather, be flexible and rearrange your camping trip until less hostile conditions are forecasted.
Packing list
When rain is in the forecast, you're going to need to pack a few more items than usual. Some of the things that you should consider taking with you are the following:
Tarp: A tarp could be the single most life-saving and essential item that you can pack for a rainy camping trip. This is one moment where you shouldn't skimp; bring several with you as they'll come in handy.
You'll be needing at least two: one to place underneath the floor of your tent and another one to put above the tent while you're pitching. There are tons of uses for tarps, including creating a sheltered space for camping chairs, firewood, or bikes. Tarps can also be used to designate a dry area next to your tent for any camping activities.
Groundsheets: A groundsheet is the best line of protection between you and the wet ground, so be sure to always have one handy. A groundsheet will not only shield you against the wetness of the land, but it will also work as an insulator, providing you with warmer sleeping conditions. Make sure the groundsheet matches the size of your tent floor, if it's larger it could retain rainwater and flood your tent.
Extra blankets: Torrential rain or extended rainfall will raise humidity levels and lower the air temperature, so you'll need more blankets than usual to stay warm. Being wrapped up in a cozy blanket will also make listening to the falling rain a more enjoyable activity.
Waterproof clothes and shoes: Above all, your waterproof clothes should be breathable and lightweight, with adjustable hoods, wrist cuffs and taped seams that will keep the water out.
Some of the basics are waterproof trousers, waterproof jacket, waterproof shoes or boots, and a base layer if temperatures drop. Something you should never have is any clothing made of cotton, as it has no moisture-wicking properties, and you'll end up damp and cold. In case your gear does get wet, or you want to change your clothes, bringing along extra clothing in plastic bags is never a bad idea.
Plastic bags: Plastic bags are lifesavers, and they are the most compact, versatile, and low cost waterproof tool you can have. You can buy them pretty much anywhere and they are lightweight and small, so won't weigh you down. Use them to store essential items that need to be kept dry, such as bedding, extra clothing, electronics, gear, etc.  
Flashlight or headlamp: Rain can mean gloomy and overcast skies, so you'll need extra lighting to pitch your tent, or if you're heading outside. Headlamps are useful to pitch your tent, and lanterns can be used for eating, reading, and lighting up your camping space.
Extra tent pegs: Make sure you always have a few extra tent pegs, as they can be a savior if you end up losing one on the soft ground, or if you need to fasten your tent more strongly in case of strong winds coupled with torrential rain.
Entertainment: You won't be as inclined to head outside during heavy rain, so it's a good idea to bring along entertainment to keep you satisfied and busy. If you're in a group, pack a deck of card, some board games, and a pair of speakers. If you're by yourself, take a book, magazines, or even a tablet.
Pitching Your Tent
Before you set up camp and pitch your tent, consider your surroundings. Think about the way the wind is blowing, and place your tent accordingly. Your outer tent should be as streamlined as possible, which will stop it from flapping all night and disturbing your sleep.
Another thing to consider is where the water is most likely to gather. You should stay away from flat spots at the bottom of a mountain or hill, as while it may be the most straightforward place to set up camp, there's a high risk of waking up with a flooded tent.
You need to pitch your tent somewhere that's above ground level and away from pools, streams, and rivers, which can easily overflow. Avoid any areas that look like they were previously flooded, or are gathering water quickly. An ideal place to set up camp is on a gentle upwards slope, placing the tent's entrance towards the bottom of the hill.
Airlock and vent your tent
When you're enjoying your time outside, and the rain starts pouring down, your first thought will be to dive headfirst into your tent to stay dry and warm. We're here to tell you that you should ignore this first instinct, and head towards the porch area of your tent. Take off your boots and any waterproof jackets here, so your bedroom area stays dry.
It's also essential that you vent your tent, as water and rain from the outside aren't the only ways you're going to get cold when camping in the rain. Over time, water will condense on the inside of your tent if you seal all the doors, so to avoid this, open any vents your tent has, especially if you are sharing it with someone else. If condensation is still an issue, then leave some room or a small gap when closing your tent doors.
Beware of lightning
Lightning strikes can be one of the most dangerous aspects of camping while it's raining or during the rainy season. Lightning can strike either before, during or after the main thunderclouds are overhead. If you are on water, say on a boat or swimming, immediately get out of the water, and find a spot where you are not the highest object if you're on land. Also, its vital that you stay away from any objects that may fall, including rock formations or large branches
Enjoy the experience!
Wet weather doesn't need to hamper your trip if you've prepared for it. If you're hiking or camping, just make sure to take out your rain gear when there is a chance of rain, don't wait for the rain to start falling.
When you prepare for this kind of weather, a rain shower doesn't need to be an emergency, or lead you to cancel your adventure. Rain is part of a more significant experience, so don't let a little water spoil your excursion.