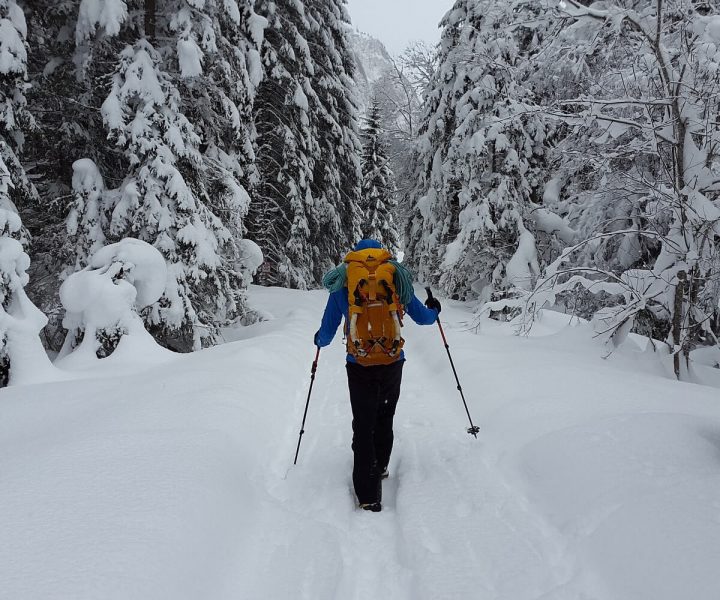 When the weather starts to get colder and the snow begins to fall, it's time for some winter adventures. If you need a change of pace from skiing, we've got you covered. Bundle up and head out to take part in one of our top winter destinations for adventurous vacations!  
Ouray Ice Park, Colorado 
What to do: Ice climbing 
There are more than two hundred iced and mixed climbs at Ouray, and its easily accessible from town. It is the most user-friendly, fun, and accessible place to practice your vertical ice climbing skills, thus becoming world renowned as an ice climbing destination. Best of all? It's a non-profit park, so entrance is free for everyone. 
When to go: Mid December through early March  
Michigan Upper Peninsula, Michigan 
What to do: Snowmobiling 
You can find some of the country's best snowmobiling in Michigan's Upper Peninsula, with more than 6,500 interconnected and groomed snowmobile trails. There's something for everyone, from beginner to expert, as they have different difficulty ranges. One of the best ways to explore this region is to cut over frozen lakes and through spectacular national parks.  
When to go: December through March  
Apostle Island Mainland Sea Caves, Wisconsin  
 What to do: Explore sea caves 
Head to Northwest Wisconsin to the Apostle Islands National Lakeshore to encounter incredible rare ice formations. As beautiful as they are they are also very rare, as in order to access them, Lake Superior needs to be confirmed as safe. We recommend planning a post-cave hot drink outing, as you'll need to reward yourself after trampling across a frozen lake.  
When to go: When the ice can be crossed safely through mid-March  
Grafton Notch State Park, Maine  
What to do: Snowshoeing  
There are numerous snowshoeing trails weaving throughout the 3,192 acres that comprise Grafton Notch State Park. Known for its excellent snowy trails that follow along the Appalachian trail, the most famous is Table Rock, which gives you incredible views when you reach the 4,180 feet of elevation.  
When to go: December through March