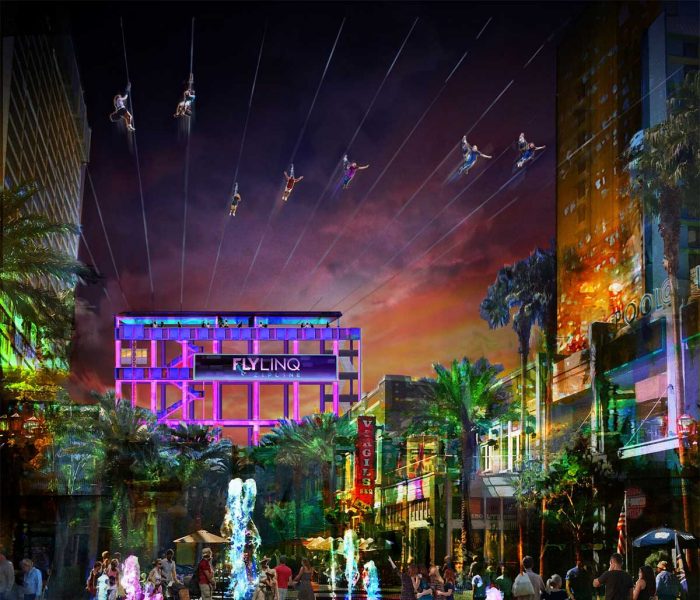 Las Vegas is now planning to bring a taste of outdoor adrenaline to the city. An ambitious new project is set to install ten massive zip lines to add some adventure to the strip. The plans were unveiled by Caesars Entertainment Corporation and owners of the LINQ Promenade, who announced the zip lines would be called Fly LINQ and would be completed in late 2018.
The zip lines are the creation of the team that also developed the tallest observation wheel in the world, the High Roller. It is estimated that the project will cost around $20 million, and upon completion, ten side-by-side zip lines will be placed high above the hectic and vibrant Las Vegas stip. The adventure will be constructed on the LINQ promenade itself, which is currently an open-air dining and shopping district located on the buzzing street.
Customers of the zip line are going to begin their experience by riding an elevator to a 122-foot-tall launch tower, starting from the Vortex at the LINQ Hotel & Casino. The elevator was specially designed to provide guests with amazing views of the strip. Once the elevator ride has finished and the visitors have taken in the view, they will make their way to their launch deck, where they will wait their turn and get fitted with the necessary gear. Riders will be able to choose how they ride the zipline, either in a seated position or strapped lengthwise in a "superman" position.
Guests will then travel at a height of 1080 feet above the promenade, finishing the ride at the base of the High Roller. And if you want to take a souvenir home, you will be able to buy a professional photo of you mid-flight and decked in full gear.
This isn't the first zip line to be launched in an urban location. Last summer, two zip line installations happened in London and Paris. We're not sure about you, but we hope this starts becoming a trend in major cities around the world!