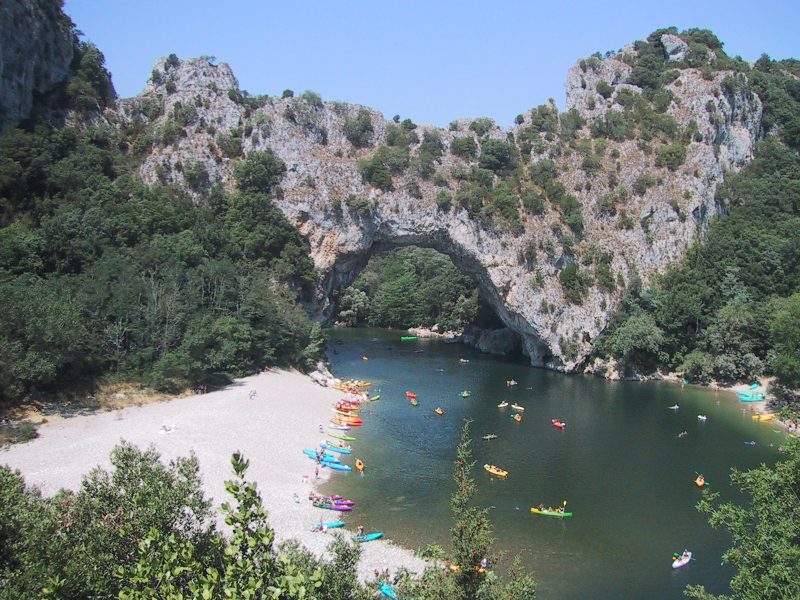 Watching free climbing videos can be stressful, and most of the time, you feel a pit in the bottom of your stomach as you can only imagine the danger the climber is putting themselves in.
This video is no different and, while it has a happy ending, you might want to watch it with your eyes half-closed. Rock climber Chris Sharma successfully attempted the first ascent on the natural land bridge Pont d'Arc in the south of France. In June of this year, Sharma climbed the underbelly of the arch, making the first ascent of the 100-foot 5.14a route. Enjoy watching him gracefully fall in the middle of his climb and into the water, splash landing–somewhat–gracefully.
Chris Sharma, born in Santa Cruz, California, was deemed the world's best rock climber by NPR in 2007. Sharma has embarked on a global adventure, dedicating his life to discovering and, subsequently, climbing some of our planet's more singular and seemingly impossible routes.
Sharma's many contributions to the sport of rock climbing include being the first to climb the initial routes rated 5.15a and 5.15b, and even going as far as establishing the 5.15c grade. His efforts have made several genres of climbing popular, including deep-water soloing (climbing ropeless up the sea cliffs with nothing but the ocean to break your fall) to sport climbing and bouldering.
Sharma's passion for the sport has led him to be lead shoe designer at Evolv, designing and developing several award-winning models of climbing shoes. He also founded the PsicoBloc Masters, the first and only deep-water solo competition in America.
After his latest adventure in the Pont d'Arc, Sharha stated in his YouTube video description that, "After almost 25 years climbing, it's incredible to keep finding new lines that I could never have even dreamed of. Good times in the Ardeche. Thank you to all the locals for welcoming us and Phillip Poulet for the drone footage."