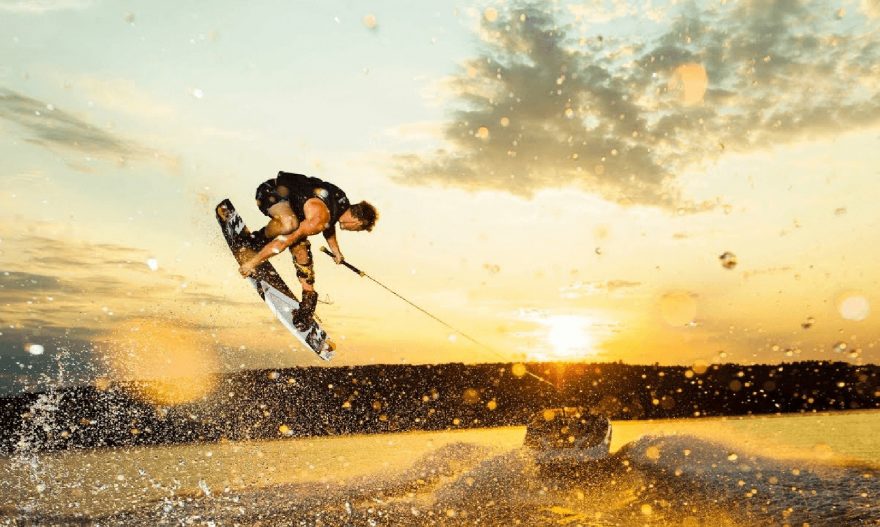 Wakeboarding through caves on Lake Superior is as dangerous as it sounds. Caves and wakeboarding aren't something you would normally associate with each other, but world Champion wakeboarder Mike Dowdy isn't one to stick to the norm.
Born in Kentucky, Dowdy made a splash on the wakeboard scene as the top talent in the Red Bull Juniors division, moving up to the pro division in just a few years. In 2013, Dowdy changed the face of wakeboarding, debuting some new tricks that have earned him loads of awards. Having torn his ACL on 2014, he had to take a step back for a bit, but he came roaring back and killing the competition in both boat and cable wakeboarding disciplines.
On a trip to Lake Superior, Dowdy did some exploring and discovered some lakes in the cave. It was a perfect setting to do some runs with a winch that he'd been itching to try out. Dowdy shoes off his technical abilities as one of the world's best wakeboarders while exploring the Apostle Islands area of Lake Superior. However, don't let his ease fool you into thinking that it was an easy feat to wakeboard through narrow caves.
Dowdy tells Red Bull that traveling around 22 miles an hour through the tight caves was one of the scariest wakeboarding adventures he's ever experienced.
"[It] was probably the gnarliest experience I've ever had winching. Mainly because the caves were so narrow, the winches aren't 100 percent accurate, and the guy operating the winch was on a cliff 9 meters [30 feet] up. We actually had a person in the water yelling to the guy operating the winch on the cliff, letting him know when I was ready in the water. It wasn't the most ideal winch-occasion, but we made it work."
He also mentioned that he's never heard of anyone else ever wakeboarding through caves, so he's pretty sure it's not something that's going to catch on anytime soon. In the meantime, we'll enjoy watching Dowdy do something incredible and take wakeboarding somewhere it's never been done before, especially when it's done by someone at the top of the wakeboarding world.