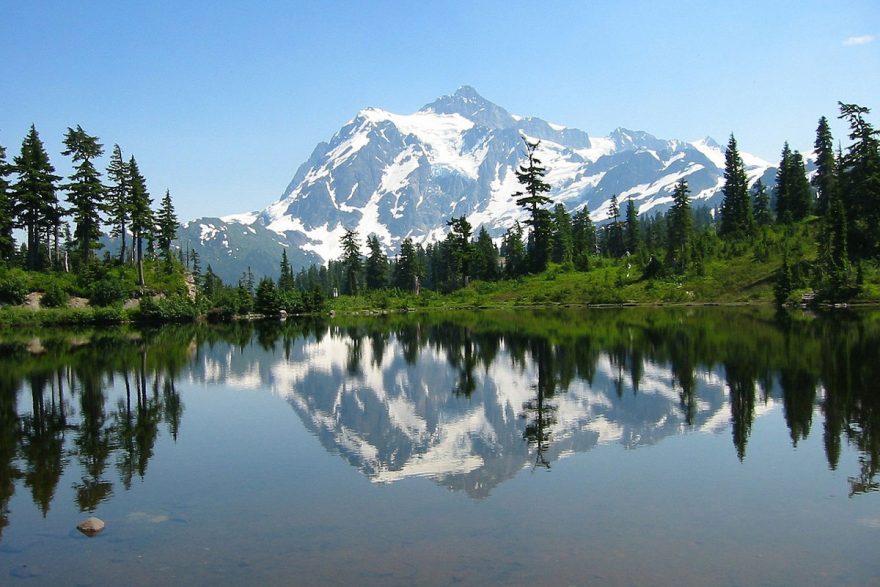 Some of the most stunning landscapes in America are protected within its 59 national parks, and you can reach some of the greatest corners of national heritage while out on day hikes. A lot of them can be done even if you are a beginner, and some of them are well known, while others aren't.
If they are popular, there's a reason we've included them on this list – they are mind-blowingly ridiculous. If you choose one of these trails, don't expect solitude (unless you're doing them early in the day or in the off-season), but they will offer a one-of-a-kind experience.
We've put together a list of the best national park day hikes, so if you want to experience the best trails America has to offer, then start ticking these trails off your list!
Kenai Fjords National Park – Alaska
Trail: Harding Icefield Trail (9 miles)
Best time to go: June through August
Level: Easy
You will be gaining almost 1,000 feet per mile on this trail, and you will leave the world as you know it over the course of this steady ascent. You will cross the threshold into what's left of the frigid kingdom of the Pleistocene era. You'll be able to hear the cracking ice of the Exit Glacier along the way, but what you're really going to be rewarded for is reaching Harding Icefield. More than 650 miles of the Kenai Mountains are blanketed by the same glacial ice that covered most of Alaska more than 22,000 years ago. We promise the vast world of ice will leave you breathless.
The more you know: Look out for mountain goats and bears along the way. Make sure you have an extra (dry) outfit for your descent.
Glacier National Park – Montana
Trail: Highline Trail (11.5 miles one-way)
Best time to go: Summer
Level: Moderate
The famous Highline Trail includes all the wild glory of the high country located in Glacier National Park. You can find ostentatious wildflowers coupled with soaring peaks, and you'll also get a chance of spotting bighorn sheep, mountain goats, and bears. The hike is relatively easy, even though it follows the course of the Continental Divide. Lucky for us, it falls below 2,000 feet from the summits of the Divide, and you won't have to make your way back thanks to the park's shuttle.
Halfway to the end, take a 0.9-mile detour for a great view of the retreating glacier, and then take a well-deserved break at the historic Granite Park Chalet. Continue onwards towards The Loop trailhead, where you'll be grateful to find a shuttle to take you back.
The more you know: You'll most likely encounter snow on the trail until late July.
Olympic National Park – Washington
Trail: Hoh River Trail to Cougar Creek (9 miles)
Best time to go: Summer
Level: Easy
The Hoh Rain Forest inside the national park can get up to 14 feet of rain per year, and it's one of the greatest temperate rain forest in the States. This trail will plunge you right into its densely forested, mossy and thick core. Most of the trail will take you beneath the canopy of ancient trees, such as western hemlock, Douglas Fir, Sitka spruce and western hemlock which work as nurse logs to saplings. The sound of silence prevails here, but for the noise of the river.
The more you know: The total length of the trail is 17.4 miles, and at the 2.7-mile mark, you will reach Mineral Creek Falls and later find a spot called the One Square Inch of Silence, which preservationists believe to be the quietest place in America. Continue if you can to Cougar Creek, where you are able to hike through an incredible forest of old-growth western red cedars.
Arches National Park – Utah
Trail: Devil's Garden Trail (1.6 miles)
Best time to go: Year- round
Level: Easy
Arches national park holds the highest concentration of natural sandstone arches worldwide, including the inimitable Landscape Arch. This is one of the longest arches on earth, longer even than a football field. When you look at it, it seems you're starting into a red and delicate rainbow, where the longest sector tapers off to just six feet in thickness. The arch frames a landscape of sandstone hills, interspersed by junipers and piñon pines. Landscape Arch is not the only arch you'll pass through; you will also encounter Pine Tree and Tunnel Arches. If the almost two-mile hike seems too easy, continue for more arches and a strenuous 7.2-mile hike.
The more you know: Parking at the trailhead is limited, and during the summer it can be scorching, so make sure you rise early and head out in the early morning.
North Cascades National Park – Washington
Trail: Cascade Pass to Sahale Arm (12 miles)
Best time to go: July through September
Level: Arduous
This trail is the more direct route to the heart of the North Cascades National Park, where you'll encounter mountainous high country with rocky summits, earning its "American Alps" nickname. Once you've hiked for six miles with an elevation gain of around 4,000 feet, you'll be confronted with the foot of the Sahale Glacier and beautiful vistas for incredible peaks with its hanging glaciers. If the day is clear, you might get lucky and sneak a peek of Mount Rainer in the distance.
The park and trail have more than 9,000 feet of altitude between the thick rainforest valleys and the high jagged summits. More than 90% of its almost seven hundred thousand acres are protected as wilderness areas, so a lot of this park can only be experienced by thru hikers. However, you can also do our recommended day hike to see vast amounts of ice, snow and of course, nature.
The more you know: If you choose to do so, you can camp at Sahale Glacier and hike Sahale Peak, which stands at almost 9,000 feet tall. Mountaineering skills are needed for the ascent. You can get a backcountry permit to camp in the area up to 60 days in advance, though you might be able to score some same-day permits at Marblemount Wilderness Information Center.
Mammoth Cave National Park – Kentucky
Trail: Wild Cave (6 miles)
Best time to go: Year-round
Level: Arduous 
Most of the cave tours available are amenable day trips, lit by mood lighting and generously furnished with handrails and stairways. However, that is definitely not what you'll be faced with when you head out to Mammoth Cave's Wild Cave Tour. There, you'll be faced with slithering sideways through narrow crawl ways named No Name Pass and Birth Canal. Some of these passageways are so narrow that if your chest or hips measure more than 42 inches, you'll not be able to take the tour.
If your measurements allow you to take the tour, prepare to crawl, crouch, free climb and walk – a lot while you're exploring the depths of the world's longest cave system. The tour takes a total of six hours, and you'll be rewarded with fantastic limestone formations which include a view of the impressive Cathedral Domes if you're lucky.
The more you know: The Park Service will provide you with outerwear, coveralls, helmets, knee pads and headlamps, but you'll have to bring your own ankle-high boots, along with a change of clothes and footwear.
Grand Teton National Park – Wyoming
Trail: Cascade Trail to Lake Solitude (14.4 miles)
Best time to go: May to September
Level: Moderate
You can gaze upon the magnificence of Grand Teton National Park when you take the hike to Cascade Canyon from Jenny Lake. There are two short day hikes you can do from Jenny Lake, one to Inspiration Point and one to Hidden Falls, two areas which will be connected by a revitalized trail in 2018.
Continue west and gaze upon the Cathedral Group, comprised of Mount Owen, Grand Teton, and Teewinot, which will tower above you like church spires. Keep going and see the crowds diminish. Most likely, you'll encounter moose grazing on the sides of the trail. You can turn back at any time, and the hike will have been worth it, but if you choose to keep going, you'll reach Lake Solitude, near the end of the canyon. If you get there, you'll be greeted with the sheer rock face of Grand Teton and a valley full of columbine, larkspur, bluebells, hyssop, pink geraniums, and paintbrush.
The more you know: You can save yourself three miles of hiking if you take the shuttle boat which crosses Jenny Lake and start your hike from its western shores.
Wrangell – St.Elias National Park – Alaska
Trail: Root Glacier Trail (4 miles)
Best time to go: Summer
Level: Moderate
Wrangell – St. Elias is America's largest national park and what you would think of as classic Alaskan wilderness. When hiking this trail, you'll be greeted with views of nearby mountains, experience an awesome glacier up close and see some historic mining ruins. Take a shuttle from Mccarthy to Kennecott and begin your hike in Kennecott Mill Town. The trail will lead you north, across Bonanza Creek and then heads towards the rock ridges deposited by glaciers before reaching your destination at Root Glacier. If you have crampons and are an experienced hiker, you can even reach the heart of the glacier.
The more you know: You can find locals to guide you on a tour with crampons if you'd like to experience the glacier at its best. The landscape is ever changing, but most likely you'll get to see a combination of sculpted ice concavities, fantastic blue pools, and cascading waterfalls.
Grand Canyon National Park – Arizona
Trail: Maricopa Point to Hermits Rest (6 miles)
Best time to go: Year-round
Level: Easy
All sections of the Rim Trail will give you incredible views of the Grand Canyon, but the section between Monument Creek and Powell Point is an unpaved road that feels more like a genuine adventure than the other paved trails. No matter whats underneath you, what lies beyond is what counts, miles of canyons and rapids along with over 10,000 geothermal features, which include fumaroles, geysers, mud pots and hot springs.
You're virtually guaranteed to see more elk and bison than you can count, and you could also get a chance to see other wildlife, like bald eagles, black bears, and grizzly bears, trumpeter swans, and wolves. We recommend doing this hike late in the day, where you can watch one of the best sunsets of your life.
The more you know: Start the hike in Maricopa Point (you can reach it by park shuttle), and then take the shuttle back to Grand Canyon Village when you're finished.
Yosemite National Park – California
Trail: Yosemite Falls (7 miles)
Best time to go: Late spring to early summer
Level: Arduous
There are two types of visitors to Yosemite: the observers and the ones that are part of the action. This hike will definitely put you in the latter group, as it begins with an invigorating climb from the bottom of Yosemite Valley until you end up climbing 2,700 feet to the top in just 3.6 miles. You'll reach the tallest cascade in North America and one of the tallest in the world. You'll get to stand almost 2,500 feet above the gawkers, and for your actions, you'll be rewarded with a fantastic look at the not easy to spot middle cascades, plus views of the valley below that will leave you feeling like one of the best rock climbers around.
The more you know: If heading for the top is not what you're after, a good spot to turn around is at the one-mile point. Once you reach this point, you'll already have had a view of the base of the upper fall and the middle cascade, along with getting a refreshing spray.
Great Smoky Mountains National Park – North Carolina & Tennessee
Trail: Mount Cammerer and Big Creek (17.8 miles)
Best time to go: Late spring to fall
Level: Arduous
The hike through the Great Smoky Mountains National Park is located in one of the most remote sections of the Appalachian Trail and will give adventurers one of the best views of the whole area. Start at the Big Creek Ranger Station and head off towards the Chestnut Branch Trail, which will lead you towards the Appalachian Trail. Once you're there, turn to the west and head towards Mount Cammerer, a 4,928-foot mountain leading to a fire tower made out of wood and rock, built during the Depression Era. This fire tower will give you fantastic views of the east end of the park and its seemingly endless ridges.
The more you know: When you're heading back, take some time to relax in one of the many deep pools lying beneath the waterfalls along the Big Creek trail.
Acadia National Park – Maine
Trail: Sargent Mountain Loop (4.8 miles)
Best time to go: June to October
Level: Arduous
The man-made improvements that improve the accessibility to its cliffs, rugged mountains and forest filled with spruce fir are one of Acadia's charms. Sargent Mountain Loop rises from Jordan Pond House and finishes at the 13,74-foot summit of Sargent Mountain. You'll skirt Jordan Cliffs on the way (be aware that this area is sometimes closed during the nesting season of peregrine falcons) and also East Cliffs. This hike would be impossible without the advantageous iron rungs and constructed steps, though they certainly don't make the trek easy.
The reason you'll want to do this hike is that you'll be rewarded with a view of Mount Desert Island and the bodies of water that surround it, including Frenchman Bay, the Gulf of Maine and Somes Sound. On a clear day, you might even spot Mount Katahdin.
The more you know: On your way down, cool off by plunging into Sargent Pond.
Zion National Park – Utah
Trail: Angels Landing (5.5 miles)
Best time to go: March to October
Level: Arduous
The sandstone canyons and red rock walls found in Zion National Park are astonishing from any perspective, but the best perspective is definitely the one located at the top of the sandstone fin called Angels Landing. This trail is listed on the National Register of Historic Places, and it deserves its spot on the list. To reach the peak, you scale a steep ridge of solid rock on a very narrow path, with chain handrails and sandstone steps.
You'll skirt the Virgin River and Refrigerator Canyon on the first two miles of the trail, but then the going gets tough, once you start climbing the twenty-one switchbacks. There's a 1,000 feet drop-off on both sides, so if you have a fear of heights, this isn't the climb for you. Conquer your fears, and you'll encounter a 360-degree view of juniper forests, canyon walls, craggy peaks and the Virgin River.
The more you know: Start your hike early to avoid the crowds and get the best light on the rocks. If you can continue after you reach the summit, stay on the West Rim Trail for another couple of miles to enjoy breathtaking views of Zion Canyon and head into a quieter area surrounded by beehive towers and white walls streaked with orange and red.
Pinnacles National Park – California
Trail: High Peaks to Bear Gulch (6.7 miles)
Best time to go: Fall to late spring
Level: Arduous
Pinnacles National Park is the United States newest national park, and it's a dramatic arena of boulders, summits and volcanic spires rising out of the Salinas Valley. Most of the park's features can be seen on this challenging hike, where you gain 1,425 feet in elevation when you reach its pinnacles formations. Keep your eyes open for a chance to spot two threatened species: big-eared bats at Bear Gulch Caves and California condors. The caves are formed by a sloping mass of loose rocks, so they're not technically caves, but they make for a fantastic place to explore. Bring your flashlight and get lost in its labyrinth-like formations and discover hidden waterfalls.
The more you know: If you enjoy rock-climbing, you'll encounter captivating intermediate routes on the park's breccia rock. If you're just starting out, make sure to take a guide with you.
Sequoia and Kings National Parks  – California
Trail: Lakes Trail to Watchtower (7 miles)
Best time to go: Summer to late fall
Level: Moderate
The start of this trail through mixed conifers is enjoyable, and it turns stunning when it breaks out of the woods. As you're reaching the parks Watchtower, you'll get a stunning view of the 12,000-foot Tokopah Falls. You can also take in the High Sierra, the Great Western Divide, the Kaweah Canyon and the forests you went through to reach the top.
The more you know: On your way to the trailhead, you can find areas that lead past the giant sequoias that make this national park famous, including the impressive General Sherman Tree, which is 36.5 feet in diameter and 275 feet tall.
Shenandoah National Park  – Virginia
Trail: Hawksbill Loop (2.9 miles)
Best time to go: Late spring to fall
Level: Moderate
The Hawksbill Loop hike is great as it takes you to the highest point in Shenandoah National Park, a 4,050-foot summit called the Hawksbill. On your way through the Appalachian Trail, look out for peregrine falcons, grouse, and deer. While you're mostly going to be trekking through hickory and oak forests, you'll experience some breaks that lead to great views of the Shenandoah Valley. When you reach the summit, look down for the Old Rag outline and its tree-covered mountains.
The more you know: Pack a picnic and enjoy it at the Byrd's Nest Shelter, a protected and perfect spot for a well-deserved rest.