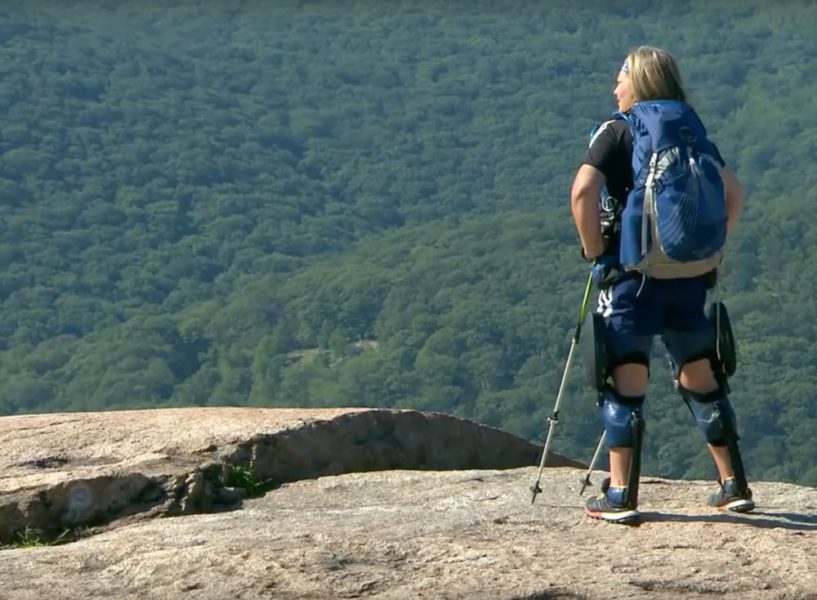 Since her late teenage years, Stacey Kozel has battled Lupus, which caused her to lose a lot of muscle function. Lupus is an autoimmune disorder that affects the immune system and attacks any healthy tissue. Unfortunately, in 2014, a 'flare up' of lupus caused Stacey to become paralyzed. Only being able to move her left arm slightly, she was left almost entirely disabled. Doctors told her that she would never walk again.
Over the years, Stacey slowly recovered; she regained strength and control in her upper body and arms, but her legs remained paralyzed. Many people at this stage would just give up and spend the rest of their life in a wheelchair. However, this wasn't the case for Kozel; she came to the conclusion that life's too short and she wanted to achieve incredible things.
At the age of 41, she hasn't let her disability stop her. She's taken control of her life and body and set out on an adventure that will go down in history. The Appalachian Trail is enormous, it's 2,190 miles, stretches across fourteen states, and only one in four hikers actually complete it. With the help of two knee braces, Stacey has made this challenging trail her goal.
The braces that she wears aren't anything like regular ones; they're bionic, and they help her to walk. Equipped with sensors and bendable joints, every .02 seconds the equipment tells her knees when to bend and straighten. They're two pieces of amazing technology that have allowed Stacey to walk again.
When Kozel first came across these braces, she imagined all the things that she could finally do again. However, she then noticed the whopping price tag of $75,000 each. Stacey didn't have this kind of money, so instead got in touch with her insurance company, but they denied her the money. She reached out to a range of different companies, but they all told her that the braces weren't necessary.
Feeling depressed, Stacey lived in hell, knowing that freedom was there but just that bit too far to reach. However, she never gave up with her appeals and almost a year later, the fund for her braces was finally accepted. She practiced walking in them around her house, block and finally her neighborhood. The amazing feeling of being able to walk again aided her decision in hiking the Appalachian Trail.
In March this year, Stacey set out on her brilliant journey. Not only is she amazing for executing this hike, but she also went completely solo. Stacey said "you're never alone out there. You have a trail family; they call it. For me, I'm slower, so we end up finishing the day in the same area, but it just takes me a lot more hours. You end up hiking with the same group of people." This woman deserves a medal for her courage, strength, and positivity.
Her bionic braces helped her significantly, but there's still some things they can't do. The braces can't get wet, so on days when the rain poured, Stacey ended up stuck in her tent; sometimes for days. Every two days, they also require a charge, undoubtedly, this isn't easy to do when you're out in nature. However, she came across many people who she called her "trail angels" – they have homes throughout the trail and let hikers stay for a warm and good night's rest. There, she was able to recharge her braces.
Stacey's ultimate goal is to raise awareness for others who are paralyzed and in wheelchairs. She wants people to know about the availability of these braces and make insurance companies more aware of how they can improve the quality of many people's lives. They aren't something that should be denied or deemed as 'unnecessary.' For Stacey, her braces changed her entire outlook on life for the better.