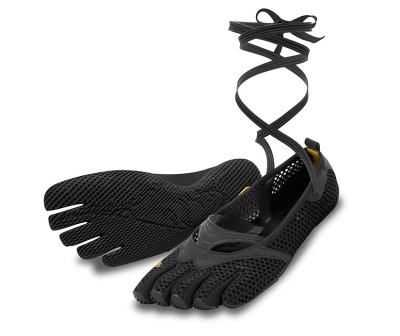 In addition to showcasing new products for spring 2015 during last week's Outdoor Retailer Summer Market, Vibram has made two big announcements. First, the company is offering new consumers the opportunity to return a pair of shoes within six weeks of purchase for a full refund, no questions asked. Because it takes about six weeks to adjust to the minimalist shoes, Vibram wanted to ensure each customer was fully satisfied with their purchase, and convince the more hesitant shoppers to give Five Fingers a shot.
The program is available when shoes are purchased directly through Vibram or select retailers. It began on July 22 and will run through the end of 2014. If you purchase a pair of shoes from a retailer, you can simply return them to the store. If you purchased them from Vibram, contact customer service through the website for returns, and a free shipping label will be provided. The shoes that are returned will be donated to charity. 
"We consider ourselves one of the luckiest brands in the world. We have something every brand wishes they had…100 percent curiosity for a product upon sight," John McMahon, director of marketing for Vibram USA, said in a news release. "However, we recognize that curiosity doesn't always translate into a willingness to try the shoe. That's why we want to offer this Satisfaction Guarantee—give 'em a try, what do you have to lose?"
Another announcement made by the brand is its multi-year partnership with Warrior Dash for United States events, which attracts about half a million participants each year. "Before we were ever affiliated with Warrior Dash, we had their fan base in mind with the Spyridon MR (mud run), which was specifically designed to handle this type of event," McMahon said.
The Vibram Shoe Wash will be available at the Warrior Dash races, and those who purchase a pair of the Spyridon MR shoes will receive a free Warrior Dash entry to a race location of their choice. The first race of the partnership was held in Lawrence, Ohio on August 9.
As for new products for next spring, Vibram will be releasing the Trek Ascent LR ($150), Trek Ascent ($120), KMD-EVO ($160), Alitza Breathe ($90), and Alitza Loop ($90). One of the most interesting new offerings from Vibram is the Furoshiki. The shoe is based on the tradition of wrapping and carrying or bending and knotting a cloth towel in Japanese culture.
"We encourage our designers to allow their imaginations to inspire and guide them without limitation. In this case, we took a Japanese tradition and transformed it into a unique shoe design," Vibram CEO Antonio Dus said in a news release.
The Furoshiki is available in Aqua Marina, Violet, Pink, Heans + Light Grey, and Pearls. It retails for $139 and is available exclusively at Vibram's Newbury Street location, 292 Newbury St., Boston, MA 02115.
For more information, check out the Vibram website.
Images courtesy of Vibram