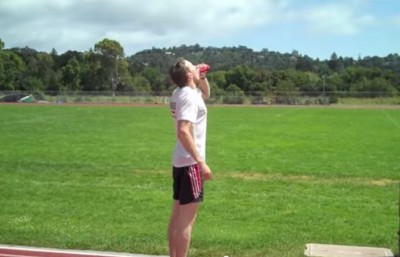 Thanks to a recently-released video documenting runner James Nielson's Beer Mile World Record, underground running-and-drinking competition is getting some national attention.
Flocasts, a new media company that seeks to engage people in the sporting community, announced last week that it intends to hold the first Beer Mile World Championship in Austin, Texas.
The event will be held this fall in hopes of crowning champion beer runners in elite men's and women's divisions. Flocasts' co-founder, Mark Floreani, expressed his excitement to host an event that will "level the playing and drinking field."
"There have always been beer miles but there was never an outlet for the best to compete against each other," Floreani said in a news release. The event has already attracted the interest of Nick Symmonds, an 800-meter world champion, who promises to be in top running and drinking condition.
This is the first time the Beer Mile is getting any kind of regulation, as the current Beer Mile rules are somewhat vague. By creating an official event, Flocasts will be able to regulate the conditions of the track, weather, and the type of beer consumed, all of which had previously been left up to the runner. Keeping these variables constant will be the key to crowning the true Beer Mile champions.
Though the idea of braving the Austin heat to guzzle beer and speed around a track just for the heck of it may not sound appealing to some, Flocasts is offering extra incentives to those willing to put their bodies through the ultimate test. A cash prize will be awarded to the winners of each division, as well as any runner who can beat the currently-held world records of 4:57.1 for men and 6:42 for women.
Visit the Flocasts website to learn more about the event.